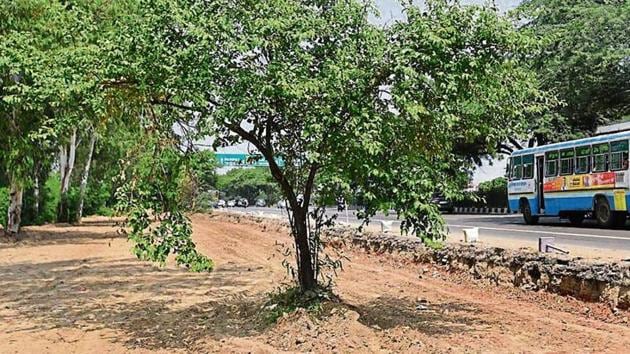 Blame game between Delhi forest department and NHAI over 410 'missing' trees
The Delhi forest department has lodged an FIR against the National Highways Authority of India (NHAI) over 410 trees that have allegedly gone "missing" between Bakoli village and Singhu border in northwest Delhi
UPDATED ON SEP 18, 2018 03:06 AM IST
The Delhi forest department has lodged an FIR against the National Highways Authority of India (NHAI) over 410 trees that have allegedly gone "missing" between Bakoli village and Singhu border in northwest Delhi.
The forest department said NHAI cut these trees without permission to widen a road in the stretch. The highways body claimed not a single tree had been cut on the stretch where work has begun but said there were reports of some trees going missing in another part where they are yet to get started.
Hindustan Times visited the stretch between Mubarka Chowk and Singhu Border on National Highway-1 (NH-1) — being widened by the NHAI — and found that construction has begun on certain sections. Heavy machinery such as bulldozers were seen parked on the stretch.
The ground on some stretches on both sides of the highway are being levelled with heavy machinery. HT spotted a few trees — eucalyptus and vilayati kikar — that were still standing in the middle of the stretches that were being levelled. There were no remains of any felled tree.
"During a routine check by our officials led by a deputy range officer on June 27, we found that at least 410 of the 1,952 trees the NHAI had proposed to cut were missing on the 7-km stretch between Bakoli village and Singhu border. On August 29, an FIR was lodged against NHAI at the Alipur police station," said a senior forest official on condition of anonymity.
The NHAI is widening the stretch between Mubarka Chowk and Panipat, of which around 14 km (Mubarka Chowk to Singhu border) falls in Delhi. Bakola village is located between Mubarka and Singhu border.
At least four flyovers would be built between Mubarka Chowk and Panipat and the road would be widened to eight lanes with service roads.
"We started work on a 7-km stretch between Bakoli village and Singhu border. We have not cut a single tree on that stretch. We had sought permission to cut some trees. But we are awaiting the forest department's nod. We will reply to the forest department soon," said BS Singla, chief general manager of NHAI.
The forest department official said NHAI's proposal to cut 1,952 trees was rejected twice as the agency couldn't transfer the land where compensatory plantation was to be done to the forest department. "They transferred DDA land to the forest department only on July 31. But before that the 410 trees went missing," said the forest official.
The NHAI officials claimed there was no evidence of any trees being cut on the stretch. No local HT spoke to claimed that trees had been felled.
But the NHAI officials also said they had informed the forest department that around 200 trees were found to be 'missing' on the stretch between Mukarba Chowk and Bakoli, where work is yet to begin.
The forest department, however, has not mentioned in the FIR as to when and where the trees had been cut.
"Do you think it easy to cut 400 trees and transport the logs on trucks without anyone seeing it? When there is so much of hue and cry in Delhi over felling of trees, locals would have informed the police and forest department had we cut trees illegally. We have not started any work between Mukarba and Bakoli. But, according to our survey, some trees are missing from that stretch. We had informed the forest department," said an NHAI official.
When forest officials were shown pictures of the trees that were still standing on the stretch between Bakoli village and Singhu border, the official said huge old trees with thick canopies are not the only ones considered as trees.
"According to the DPTA Act of 1994, any plant that has a diameter of 5cm (or girth of 15 cm) at least one foot from the ground is considered a 'tree'. You need not cut them to remove them. You can just uproot them as they are small. How can you move your heavy machines to level a plot of land on the road side without cutting a single tree?" said the forest official.
HT had earlier reported how at least 1.12 lakh trees had been felled with permission from the forest department between 2005 and February 2018. But there are hundreds that are cut illegally every year.
"Going by data provided by the forest department, at least 24 trees were felled every day and at least one tree was felled every hour over the last 13 years. All these trees were cut legally. We still don't know how many were felled illegally," said Aditya Prasad, an advocate at the National Green Tribunal.
Amid a public outcry, a series of litigation were filed in the NGT and Delhi High Court after the Centre proposed to cut down around 14,000 trees in south Delhi to redevelop some government colonies. The Delhi government later revoked the permission.
Close