Air pollution: United Airlines suspends Newark-Delhi flights due to 'poor air'
Updated on Nov 12, 2017 12:00 AM IST
The US-based airline temporarily suspended Newark-Delhi flights due to poor air quality concerns.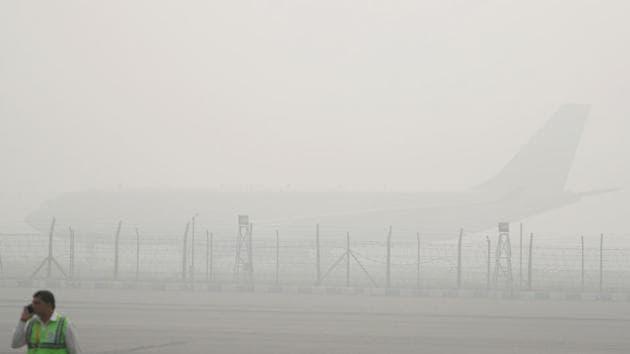 Hindustan Times, New Delhi |
HT Correspondent
United Airlines on Saturday temporarily suspended its Delhi-bound flights from Newark, USA, citing "poor air quality" – the first cancellation of an international flight after pollution levels rose in the national capital with air quality index reaching the 'severe' category.
"United temporarily suspended Newark-Delhi flights due to poor air quality concerns in Delhi," a spokesperson of the US-based airline said. The airline website said that a flight from Newark to Delhi (UA 082) was cancelled due to "severe weather condition in our route network".
In an email on November 9, the airline company informed its passengers that travel disruptions were likely due to "air quality concerns" in Delhi. The carrier operates flights from Newark to Delhi and Mumbai.
"Due to air quality concerns in Delhi, India, we anticipate possible delays and cancellations throughout the weekend. For the safety of our employees, we may also need to close outdoor work areas at times. To get ahead of this potential issue, we're offering additional flexibility that may allow you to change your travel plans. If you still plan to travel, please check your flight status on the United app or at united.com / flight status before going to the airport, and sign up to receive flight status messages in the event of changes," the airline noted in the email.
Travel portal Yatra.com said only United airline had informed them about suspending flights while all other airlines operated on schedule.
"It seems like an overreaction considering that no other airline has done something like this. Passengers are being massively inconvenienced. They are looking at other airlines to shift those passengers. We have informed our passengers about this change," Sharat Dhall, COO, Yatra.com said.
A Delhi airport official who did not want to be named said United had informed the authorities about cancellations for two days without specifying a reason.
"They have cancelled flights only for two days. How would they know there will be smog for two days? How can they anticipate that? And all other US airlines are flying. Smog happens every year around this time but there are no cancellations. This could be due to some other technical reason. We haven't been told anything," he said.
Personalise your news feed. Follow trending topics