Delhi pollution: Air quality better but experts say get ready for another spike
Updated on Nov 17, 2017 11:29 AM IST
Safar officials said the improvement in air quality is not likely to last long as Delhi is heading towards another spike in pollution levels due to changing weather conditions.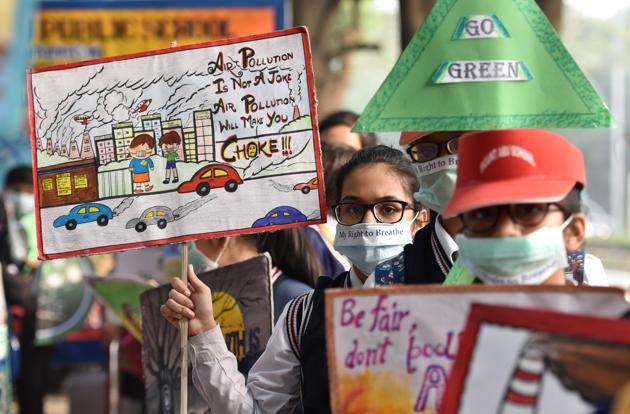 Delhi's air quality continued to show slight improvement on Friday morning but remained 'very poor' with partly clouded sky. However, officials at Safar — a pollution forecasting wing of the ministry of earth sciences — said the slight respite from toxic air may not last long as the Capital is headed towards another spike in pollution levels due to changing weather conditions.
Delhi's Air Quality Index (AQI) – a measure of the level of pollutants – was recorded at 344 on Friday, which was a minor improvement from Thursday's 348 but still in 'very poor' category. The 24-hour average of AQI on Thursday was 363.
The minimum temperature on Friday was recorded at 13.9 degree Celsius and the maximum temperature is expected to be at 25.5 degree Celsius. The minimum temperature on Thursday morning was recorded at 15 degree Celsius. Officials from the Indian Metrological Department said that visibility has improved and was recorded at 1000 metres. While there is also no prediction of rain, some parts of central Delhi received slight drizzle early on Friday morning.
However, Safar officials said Delhi may be set for another spike in pollution levels soon. "The air quality is going to get fouler during the weekend. The western disturbance... would soon withdraw. Once it withdraws, moisture would gush in and temperature will dip," said Gurfan Beig, Safar project director.
Delhi had seen seven continuous days of "severe" air quality last week because of which several emergency measures, including closure of schools, were put into action. It had entered 'severe' zone on November 7 and hit its peak of 486 on November 9. The last time Delhi witnessed such a prolonged spell of severe air quality was in November 2016 when the city faced its worst smog in 17 years.
Environment Pollution Control Authority (EPCA) on Thursday issued direction removing ban on entry of trucks, construction works in Delhi, four-fold hike in parking fees also withdrawn.
EPCA chairperson Bhure Lal wrote to the chief secretaries of Delhi, Uttar Pradesh, Punjab and Haryana in the morning, directing them that the measures be lifted with 'immediate effect' as the prevailing air quality does not warrant such tough action.
"... Pollution may rise again because of increased moisture in the air in the coming days. However, if the conditions continue to improve and air quality stabilises, we will review the measures under the 'severe' category and inform you accordingly," Bhure Lal wrote.
Personalise your news feed. Follow trending topics