Delhi civic agencies fine 75,000 over four months for insanitation
Updated on Aug 17, 2018 04:14 AM IST
The three civic agencies — North, South and East Delhi Municipal Corporation — have prosecuted over 75,000 persons and establishments for littering, garbage burning and violating the Solid Waste Management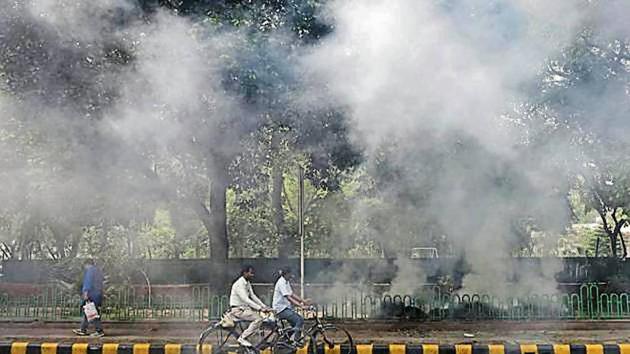 The three civic agencies — North, South and East Delhi Municipal Corporation — have prosecuted over 75,000 persons and establishments for littering, garbage burning and violating the Solid Waste Management (SWM) by-laws, 2018, in the last four to six months.
The fines were imposed after people were found not adhering to norms, despite repeated warnings. The east corporation imposed 27,887 fines, while the south issued 29,237 and north 20,000 fines.
"The EDMC is consistently working towards improving cleanliness in our areas, but we can't achieve results without residents' support. We want residents to contribute to the cause and adhere to sanitation norms," EDMC commissioner Ranbir Singh said.
The EDMC has issued the fines between January and July 2018 and collected over Rs 2.38 crore in penalties. "Of the total 24,612 fines imposed for insanitation, 126 are for garbage burning, 1,916 for SWM by-laws violation and 1,233 for allowing construction dust to fly,"Singh said.
In case of individuals, the fine amounts range from Rs 500 to Rs 5,000, depending upon the number of violations. For bulk generators, the fine amount goes up to Rs 1 lakh, as per the MSW by-laws. "However, cases wherein there is no clarity about the category of violation, the matter has been sent to the municipal magistrate . The magistrate, appointed by the high court, hears such cases and decides the fine to be imposed," a senior north corporation official said.
Focusing on the effective implementation of MSW by-laws and the National Green Tribunal (NGT) directions, in the last three months (May to July 2018) south corporation has issued 29,237 fines to the tune of Rs 1. 13 crore for not segregating garbage, dumping waste or debris in the open, creating unhygienic conditions in the neighbourhood and burning green waste, among other reasons.
"We have issued clear-cut directions to officials in all four zones for close monitoring of defaulters and for booking violators immediately under the Delhi Municipal Corporation Act. The drive will intensify in the future to improve the cleanliness and sanitation condition in our areas," SDMC commissioner Puneet Goel said.
"Considering the fact that during next swachhta survekshan's (2019) main focus will be on segregation of garbage at source, we are putting in all efforts to get results. As of now, we are targeting bulk generators, but in the future, we will fine residents as well," a senior north corporation said.
Personalise your news feed. Follow trending topics