Delhi man pretends to be doctor in AIIMS for 5 months, police say surprised by his knowledge of medicines
Updated on Apr 16, 2018 09:26 PM IST
Police say Adnan Khurram used to roam around in AIIMS Delhi wearing the lab coat and stethoscope all the time. He even made different claims to different doctors, saying he is a junior resident to some or introducing himself as an undergraduate medical student.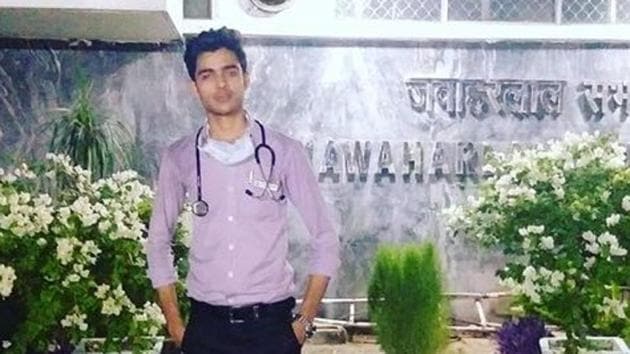 Hindustan Times, New Delhi |
HT Correspondent
Delhi Police have arrested a 19-year-old medical aspirant who was impersonating as an AIIMS doctor for the past five months. The accused, Adnan Khurram, used his fake identity to make friends across departments and among medical students. He even participated in events meant for doctors – from strikes to marathon, said the AIIMS resident doctors' association. When police arrested him on Saturday, they were surprised by his 'knowledge' of medicines, the names of doctors and department heads at AIIMS.
The accused also had accessed a diary issued to the doctors.
Police said it is still not clear why Khurram posed as a doctor as he has been frequently changing his statements. One of the reasons he had given for his crime was that had to help an ailing family member get preferential treatment. He also said that he posed as a doctor because he liked to spend time with doctors, a profession he wanted to take up himself.
Deputy commissioner of police (south) Romil Baaniya said Khurram was handed over to them on Saturday and has been charged under sections 419 (impersonation) and 468 (forgery for purpose of cheating) of the Indian Penal Code at Hauz Khas Police Station.
RDA president Harjit Singh said Khurram had been observing his activities in the campus for the past many months and decided to keep a watch.
"He would roam around wearing the lab coat and stethoscope all the time. We found out that he had made different claims to different doctors. To some, he would claim that he was a junior resident doctor while to junior resident doctors, he would introduce himself as an undergraduate medical student. He had even made his way to the WhatsApp groups," said Singh.
Singh said since AIIMS has around 2,000 resident doctors, it is difficult to know each and every person individually and Khurram used this to his advantage and avoided being caught.
On Saturday, when he participated in a marathon organised by the doctors. Some of the doctors got suspicious and asked him about his identity. When he could not give a satisfactory reply, he was overpowered and the police was informed.
The police said Khurram had no criminal record. During investigation, it was found that Khurram had uploaded many photographs wearing a doctor's coat and stethoscope on social media. There are also photographs of him with politicians. Khurram, a native of Bihar, lived in Batla House, near Jamia Nagar.
Personalise your news feed. Follow trending topics