DU polls: AAP student wing to ally with AISA
AAP Delhi convener Gopal Rai said this would be the first time its students' wing - CYSS - would be fighting student union polls with a left-wing student outfit.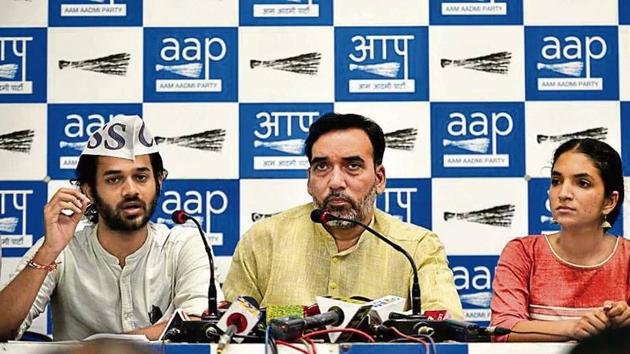 Updated on Aug 30, 2018 10:08 AM IST
The Chhatra Yuva Sangharsh Samiti (CYSS) – the Aam Aadmi Party's (AAP) student wing — will contest the coming Delhi University Student Union (DUSU) polls in alliance with the left-leaning student outfit, the All India Student Association (AISA).
Announcing this on Wednesday, AAP Delhi convener Gopal Rai said this would be the first time the CYSS would be fighting student union polls with a left-wing student outfit.
The polls are slated for September 12.
"The AISA will contest the posts of president and vice-president while the CYSS will field candidates for the secretary and joint secretary positions. We will focus on three main issues — change, better education and better facilities for students," Rai told reporters.
Rai, who is also a minister in the Delhi government, said a joint panel of CYSS and AISA would contest the polls to ensure better quality education in the varsity and raise students' demands such as allowing their pass in Delhi Transport Corporation's AC buses and to fix CCTVs in every college.
"DU students are fed up with 'muscle power' and 'money power' in DUSU elections and want a change for better education and facilities. This alliance will be the beginning of positivity in student politics," he said.
The AAP leader said CYSS had contested DUSU polls three years ago and had got around 12,000 votes, while AISA has been getting nearly 10,000 to 12,000 votes in varsity polls.
The AAP's student body, which was launched in 2014, had contested the DUSU elections in 2015 but could not win a single post. It remained absent from campus politics in the last two academic sessions.
Some CYSS members said the party has been in talks with AISA's parent organisation, the Communist Party of India (M-L), since last year.
"The CYSS stayed away from campus politics for the last two years. But it was important to contest this time in view of 2019 Lok Sabha elections. We wanted to come back with some assurance this time around. There were no chances of an alliance with the RSS-backed Akhil Bharatiya Vidyarthi Parishad (ABVP) or the Congress' student wing, the National Student Union of India (NSUI) and so, we chose AISA. We are targeting at least one of the four DUSU seats," said a member who wished to remain anonymous.
While the NSUI had won the president and the vice-president posts in 2017, the ABVP grabbed secretary and joint secretary positions.
AISA's Delhi chief, Kawalpreet Kaur termed the alliance "natural" and said that it was a strong alternative that would support issue-based politics. "We are sure all DU students will support this alternative," Kaur said.
Close Story