Get ready for weekly cultural events at 52 Delhi monuments from February
Updated on Jan 10, 2018 08:00 AM IST
The archaeology department has so far indentified four monuments — Qudsia Bagh (Kashmere Gate), Bhuli Bhatrayi Ka Mahal (Karol Bagh), Bawana Zail, and Bade Lao Ka Gumbad (Vasant Vihar) — where restoration work has recently been completed.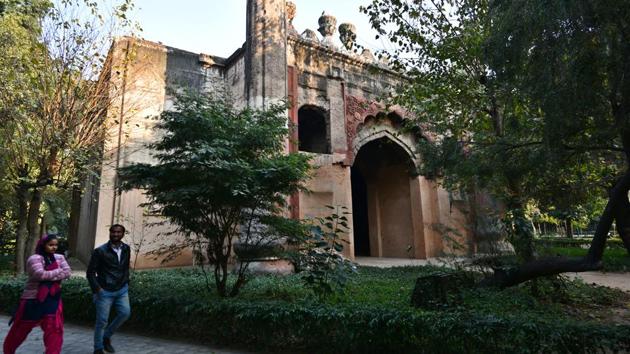 Neglected historical structures will get a new lease of life as the Delhi government plans to promote and preserve them as centres of arts and cultural heritage, where it will hold weekly performances and exhibitions from February.
The government hopes to improve the maintenance of the monuments through this initiate. The state archaeology department (SAD) undertakes restoration of several ancient structures every year but due to lack of proper mechanism for their safety, the monuments are prone to wear and tear. Lesser footfall and lack popularity also leads to deterioration as it makes monuments vulnerable to vandals, a senior Delhi government official said.
To overcome these issues, the department recently decided to organise frequent cultural events — mushairas, exhibitions, kavi sammelans, dastangoi sessions, plays, folk dances and musical events — at these historical buildings on Saturdays. Official said the arts, culture, and language department will play a significant role in this initiative as its various wings — Sahitya Kala Parishad and language academies — will be roped in to curate the functions.
In 2012, the archaeology department had identified nearly 250 monuments for restoration for which it entered an agreement with Indian National Trust for Art and Cultural Heritage (INTACH). Since then, it carries out conservation of about 18 monuments every year.
So far, 53 such buildings of historical significance have been restored and work is going on at several locations.
Laying stress on the need for cultural events at these places, Deputy chief minister Manish Sisodia said as merely conservation of structures is not sufficient therefore we must evolve ways to keep them alive and intact.
"Are we merely preserving our monuments for their architectural value and make them into a selfie point for tourists? Are we only looking at heritage as a thing of the past? If we want to keep the heritage alive, the system must evolve. I strongly believe merely preserving this heritage and culture is not good enough. We need to find ways to use art, culture, heritage and education to strengthen our democracy," he said.
The archaeology department is in the process of identifying 52 such monuments and sites. The department has so far indentified four monuments — Qudsia Bagh (Kashmere Gate), Bhuli Bhatrayi Ka Mahal (Karol Bagh), Bawana Zail, and Bade Lao Ka Gumbad (Vasant Vihar) — where restoration work has recently been completed.
"The theme of an event will be chosen on the basis of location of the structure. Bawana Zail, once the revenue office of the erstwhile British rule, will host rural folk programme. This will facilitate community engagement," the official said.
Heritage enthusiasts and historians lauded the initiative. They, however, added that the government needs to set up a mechanism for physical protection of monuments and for sensitizing people about their significance.
Farhat Nasreen, an author, said it is the government's responsibility to teach people thronging monuments to respect them. "Visitors need to be sensitized. We need to tell them to respect our heritage. It is not an easy task but we should deploy volunteers to ensure that they are not vandalized," she said.
Nasreen, who teaches in the department of history and culture at Jamia Millia Islamia added that the availability of a brief note narrating the value and story of the venue will help to achieve the goal.
Vikramjit Singh Rooprai, heritage activist and educationist, said it is a positive step towards revival of these monuments as cultural spaces. "To prevent our dying heritage, the most important step is to connect it with common people. Many medieval structures had fallen prey to anti-social elements. I am glad that government wants to revive these monuments as cultural spaces. This will help in spreading awareness and also ensure its proper upkeep," he said, adding that "it can act as an incubator to revive dying intangible art forms."
The government is also planning to organise mandatory visits of school students to historical building in their neighbourhood.
Deputy chief minister Manish Sisodia told HT that this is an attempt to understand the history through innovative methods beyond the school textbooks. "If we look at the school textbooks right now, the references to monuments merely come with a picture and caption describing it. What impact will this make? What we need is to describe the society about the time when a particular monument was built. And we should collectively find innovative ways of delivering heritage education and presenting history to our next generation," he said.