Delhi cops google HT story, catch 'super' thief who targeted rich in Vasant Kunj
Delhi Police searched for keywords on Google when they found a Hindustan Times report on the arrest of Siddharth Mehrotra by Noida Police in 2015. Nabbing him was not so difficult after that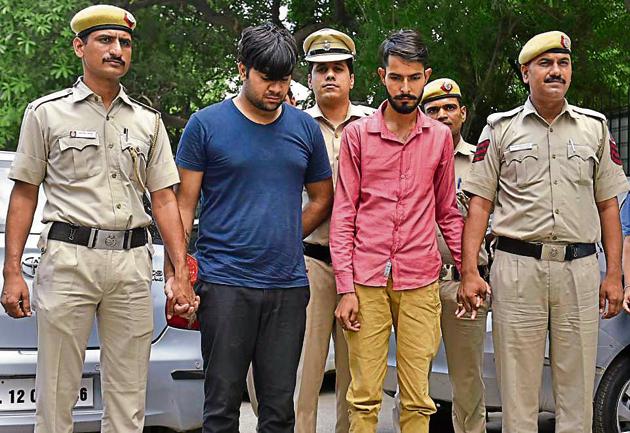 Updated on Aug 22, 2017 01:18 PM IST
Hindustan Times |
, New Delhi
Shiv Sunny
A thief who travelled to 'work' in a Chevrolet Cruze car and only targeted houses in the affluent south Delhi neighbourhoods, such as Vasant Kunj, was arrested on Monday after police used Google search to identify him.
Siddharth Mehrotra, 27, allegedly told his interrogators that he only targeted the houses of politicians, bureaucrats, government officers and businessmen. His victims include an ex-MP and a sub-divisional magistrate, said police.
Since February this year, Mehrotra had burgled 18 flats in Vasant Kunj, all of them located on the ground floor as they allowed him to get away easily if detected. On a few occasions, Mehrotra had been captured by CCTV cameras.
Though his face was clear in the footage, there was no way the police could identify him. What followed was two weeks of laborious Google search that simply involved typing hundreds of relevant keywords in the hope that any news related to him would carry his photo and help establish his identity.
"Given the number of cases in which Mehrotra was involved in, we hoped that he would have been arrested at least once in the past. We began searching Google for any possible news on his arrest," said Ishwar Singh, DCP (south).
It was a hit-and-try method. "We searched hundreds of keywords such as 'suave thief', 'Bunty Chor', 'well-dressed burglar', etc. We chose these keywords hoping some journalist would have used these words to describe him after his arrest," said an investigator.
One vague keyword, 'officer's son', finally yielded the result the police were patiently waiting for. It turned out Mehrotra was arrested by the Noida Police in 2015 in connection with a burglary in which he had made away with Rs 34 lakh cash.
The news story, published by Hindustan Times, had carried his picture and had described him as a retired bank officer's son. CCTV footage confirmed it was the same man who had been targeting the houses in Vasant Kunj.
Thereafter, police found it easier to search for Mehrotra on Facebook before physically tracking him to his rented home in Pitampura. Two of his associates too were subsequently arrested.
Mehrotra allegedly revealed that when he landed with Rs 3 lakh cash during a burglary in Noida, he bought himself a Chevrolet Cruze car. Since early this year, he decided to target only Vasant Kunj homes.
"One successful entry into a Vasant Kunj house would land him with more valuables than those in other neighbourhoods. He would read the name plates outside the houses and specifically look out for politicians, bureaucrats or government officers," said the DCP.
Close Story