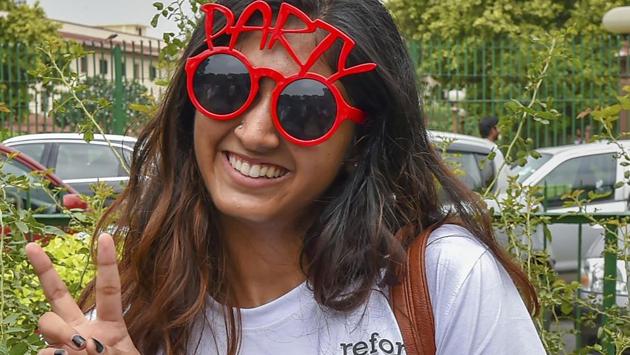 Homosexuality decriminalised: Now, 377 is just for great deals, not a cause for fear
After the Supreme Court of India decriminalised homosexuality by scrapping some provisions of Section 377, restaurants around Delhi NCR are celebrating this new freedom with deals on food and beverages — some of them priced at Rs 377.
Hindustan Times | By Naina Arora and Ruchika Garg
, New Delhi
UPDATED ON SEP 07, 2018 04:57 PM IST
A landmark judgment calls for a party, right? Since the Supreme Court decriminalised homosexuality — striking down some provisions of Section 377 – restaurants in Delhi NCR have started celebrating by doling out exciting deals. The app cab service Uber has also joined in by showing a person's ride route in rainbow colours, a symbol of gay pride now.
Some restaurants are using Rs 377 deals to celebrate the scrapping of the much-unloved section. All outlets of The Beer Café are offering pitcher/bucket deals at Rs 377 till September 9. Rahul Singh, CEO of the restaurant, says, "With this landmark verdict, love has won. It's a monumental decision, and we want to celebrate it with beer."
Outlets of Lord of the Drinks and Warehouse Cafe has offers till September 15. Restaurateur Priyank Sukhija says, "The judgment is historic. It came late, but justice delayed isn't justice denied. We're elated, and to celebrate this moment of joy and love, we're running an offer of five beers at Rs 377."
The college-themed restaurant Prankster, in Gurugram, is celebrating with special drinks, such as Order of Love and Love Knows No Barriers, all of September. "The sign of a progressive country is that it's always ready to accept changes, and this judgement truly shows that we've evolved as a society," says Inderjeet Singh Banga, owner. The offers include 1+1 on select drinks.
"It's great to hear that our court is accepting that love is for everyone. To celebrate, we're giving our second IMFL at Re1 plus taxes throughout the month," says Piyush Jain, owner, Decode Social Dining at Rajouri Garden. At Raasta, Delhi and Gurugram, there are domestic beer deals for Rs 377, till September 9, till 8pm.
There's a 1+1 offer even on whiskey at Junkyard Cafe, Connaught Place, till September 15. "Love wins and this calls for celebrations," says Umang Tewari, owner.
The Drunken Botanist, in Gurugram, has a meal menu (burger, sushi etc) for Rs 377. There are also curated drinks in keeping with the spirit of this new freedom.
An Uber spokesperson says, "Our pride coloured routes signify India's readiness to #MoveForward, and aim to evoke emotions for happier, brighter and more colourful years."
Follow @htTweets for more
Close