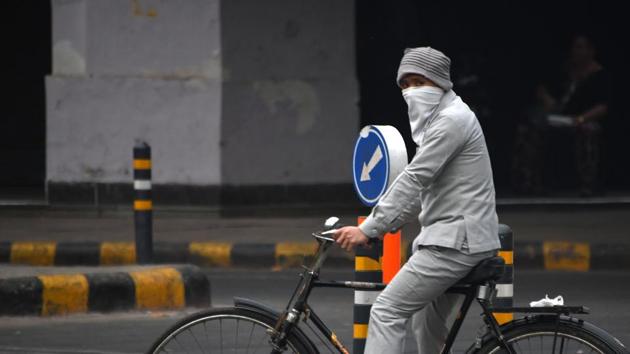 How air pollution helps urban Delhi stay cooler during the day
The aerosol effect: The 'urban cool island' is experienced in May-June during peak summer and again between October and December in winter.
UPDATED ON MAY 08, 2018 09:29 AM IST
Strange it may sound but air pollution, along with many other factors, helps to keep Delhi cooler by at least two to four degrees than the surrounding rural areas during peak summer, researchers have found. This cooling effect, which scientists call the 'urban cool island', is experienced at least two times a year — first in May-June during peak summer and again between October and December in winter.
This phenomenon is the opposite of the 'urban heat island' in which cities tend to be warmer because of the trapped heat.
Scientists said aerosol pollution, which increases during these two periods, could be one of the factors behind this effect.
Aerosols are minute particles suspended in the atmosphere and comprise almost anything from road dust, sea salt, desert sand, sulphates, nitrates, mineral dust and even moisture among others.
"Even though the night-time surface temperature remains higher in Delhi compared to the surrounding areas throughout the year, the trend of day-time surface temperatures is significantly different. A cool island forms over Delhi during the day as the temperature remains at least two to four degrees lower compared to areas outside the city," Krishan Kumar, a professor at the School of Environmental Sciences of JNU, said.
"We all know pollution is high between October and December. In summer, it has been found aerosol particles are high. The land becomes dry and there is dust pollution, which gives birth to aerosols. Sulphates have also been found to be higher," D Saha, former head of the Central Pollution Control Board's air quality monitoring laboratory, said.
Some categories of aerosols absorb the sun's rays. But most of them tend to reflect the sun's rays and doesn't allow them to reach the earth's surface, experts said.
Sulphate and nitrate aerosols act as mirrors and tend to reflect the maximum sunlight. This causes surface cooling.
"Our study reveals the surface temperature during the day remains lower whenever there is a rise in aerosol load over Delhi. But there could be several other factors that could be affecting the day temperature such as land use, land cover, vegetation cover and soil moisture," Kumar said.
A separate study led by researchers from IIT Mumbai had reported a similar phenomenon in other Indian cities. Similar phenomenon has been seen earlier in Beijing and Hong Kong.
The study was conducted by 10 researchers from JNU, National Physical Laboratory, Central University of Punjab, Tezpur University and Indian Institute of Remote Sensing. The findings were published in Urban Climate, an international peer reviewed journal of the Elsevier group.
The researchers used data from the MODIS satellite — (Moderate Resolution Imaging Spectroradiometer) a key instrument aboard NASA's Terra and Aqua satellites — of average monthly day and night temperatures over central Delhi and areas outside the city for the period March 2000 to November 2012. The scientists gathered data on the 'aerosol optical depth' for the period December 2011 and February 2011. This shows how much direct sunlight is prevented from reaching the ground by aerosol particles.
Some experts, however, said the cool effect remains only for two to three hours after sunrise. As the day progresses and the heat increases, more convection currents in the air led to deepening of the atmospheric boundary layer. This causes the particles to disperse and the urban-rural difference fades.
Close