Is Delhi University transgender-friendly? No way, say students seeking admission
Jun 16, 2017 06:41 PM IST
Students of the third gender share their ordeals while trying for admission in DU; reveal that officials ask bizarre questions like, 'Since when are you transgender?'.
Delhi University's move to include the third gender in its admission forms in 2014 was hailed as a progressive step, making transgenders hopeful of inclusiveness. But the latter remains a faraway dream. The ill-treatment by officials and other students during the admission process often leaves students of the third gender disheartened. As a result of which, many opt out of college.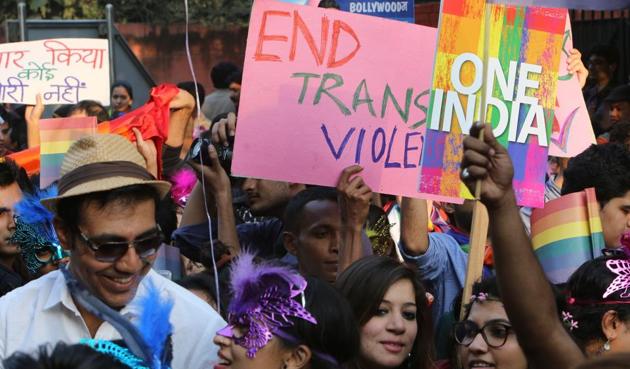 This year, since the DU admissions opened on May 22, 36 applications from transgenders have been received so far. How many (...or few) end up joining is a number the officials refuse to disclose.
Sharing her ordeal, Anu, a Delhi-based transgender who visited the campus last year to fill up the admission form, recalls, "When we were filing the form, they (some officials in DU) asked us: Kab se transgender ho aap? Matlab kitne dino se?" I couldn't believe my ears. Padhe-likhe log bhi aisi baatein karte hain! (This is how the so-called educated strata of the society behaves). Especially because I was the one who had asked my friends from Uttar Pradesh and other neighbouring states of Delhi to fill the admission forms in person, rather than online. This shows how insensitive people are even in reputed educational institution like Delhi University." The incident made her decide against studying in DU, says Anu.
Wishing not to be named, another transgender from Delhi recalls how like any other first-timer in college, she was excited to visit the campus, but being teased and made fun of with slurs made her apprehensive. "I approached a group of students to find get directions to the window for filling up the application for DU's School of Open Learning (SOL). They called me a 'chhaka'. I never thought that educated people could be so insensitive. We are also a part of the society. I knew right then that I will never be one of them." She adds that many other dejected students like her end up quitting studies, and resort to vocational training.
They hold a grudge against both students and the administrative staff. Isha, who hails from UP, and came to Delhi last year to try for admission, shares, "The behaviour towards us is weird. People should learn to behave properly with transgenders, now that we have been given the provision of studying with the mainstream. But, they shoo us away like animals."
College authorities say they do their bit to spread the message of equality on campus, but a lot more is required. Dr Rama Sharma, principal of Hans Raj College, says, "We are aware of the issue and therefore, frequently organise counselling sessions for our students and staff to sensitise them about how to deal with those who come to seek admissions and study. I believe all colleges should try to make the environment friendly for everyone."
Gurpreet Singh Tuteja, Deputy Dean Students' Welfare, DU, however, adds: "The awareness and sensitising people towards transgenders should begin at the school level itself. It cannot start from the graduation level. Unless transgenders are not treated as equals since childhood, they are bound to face such issues."
Meanwhile, transgender Anu, who was emotionally shaken by the treatment meted out to her, decided to take the matter in her hands. She volunteers with Delhi-based SPACE NGO to sensitise youngsters and teachers towards the third gender. "Through the project, Purple Board, we are working with fifteen schools of Delhi to bring about a change in people's mindset and attitude." She is also learning dress designing.