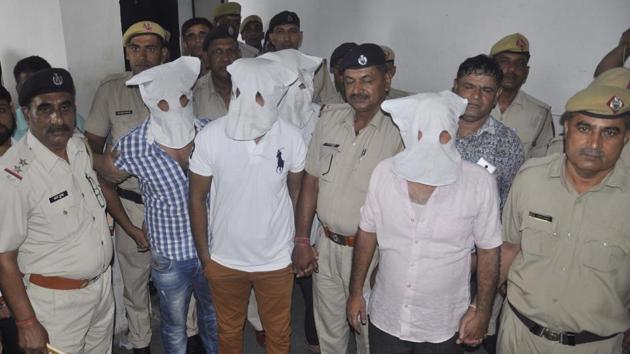 Ballabhgarh lynching: 'Man who killed Junaid was fair, short, looked like a gym enthusiast'
Junaid Khan, 16, was stabbed and killed on a train while he was on his way home in Ballabhgarh after shopping for Eid. His brother Hashim has given full description of the alleged killer according to which the police are now preparing a sketch.
UPDATED ON JUN 30, 2017 11:05 AM IST
He is about 5 feet 6 inches tall, muscular, clean-shaven with a broad jawline. He did not wear spectacles and appeared like a gym enthusiast. That is all what is known about the alleged elusive killer who attacked 16-year-old Junaid Khan and his brothers on a Mathura-bound train on Thursday last week, triggering national outrage.
It has been a week since the incident, but the man who allegedly murdered Junaid and stabbed his brothers — Sakir and Hashim — is still on the run.
The police have arrested five persons in connection with the case. They have been booked for murder, attempt to murder, wrongful confinement and deliberate and malicious acts intended to outrage religious feelings or any class by insulting its religion or religious beliefs.
Ramesh was arrested on Tuesday. Chandra Prakash (50), Gaurav (31), Rameshwar (29) and Pradeep (22), who were arrested on Thursday, are in police custody and will be questioned. They told the police they made communal slurs but denied killing Junaid.
Hashim on Wednesday gave a full description of the alleged killer to the police and got his sketch made, which will be used to trace him.
"He was wearing a half-sleeved shirt. He was well-built, like a person who goes to the gym everyday. His face was round but his jawline was broad and sharp. He was fair, had a heavy voice and was talking in Haryanvi," Hashim recalled.
"He did not wear any spectacles and did not have a tattoo. He was not wearing usual pants but was in a pair of shorts and also carried a black bag with him," he added.
The dialect, Hashim said, appeared to be from their area, making it clear that he was not an outsider. He told the police that he had seen a similar looking man in Palwal a few days ago, working out in a gym.
"He looked very similar to the man I saw in the gym the other day but I am not certain if he was the same man. This man was so strong that he was able to hold Junaid despite his resistance. He got so violent that he kept saying 'pakdo inko aur meri taraf phenko'. And the people followed his directions," Hashim said.
"I kept pleading but he was on a killing spree. He butchered my brother and then came for us. His associates held us by our arms. I can never forget his face and will identify him the moment I see him," he said.
Deputy superintendent of police Mohinder Singh confirmed that the police were using the sketch to trace the alleged killer. "Hashim told us he had a round face and a nice build. With his description, we got a sketch made which we will send to our raiding parties. We are taking Hashim along for raids. He will take him on the journey from Sadar Bazar to Asaoti in all trains plying on that route. We suspect the accused is a local so he may be using a train to commute," he said. "
"We will take remand of the four men we have arrested and question them on the sequence of events. Though they claim that they do not know the man who stabbed the brothers, we will question them," he added.
Close