Ballabgarh lynching: Delhi govt staff, 3 others held for 'inciting mob' to kill Junaid
Jun 29, 2017 11:54 AM IST
Stabbing of Muslim boys: 50-year-old DJB employee tells police he told Junaid and his brothers to stop playing Ludo on a seat in the Sadar Bazar-Mathura train so that he could sit.
Haryana police on Wednesday arrested four persons in connection with the Ballabgarh lynching in which one Muslim youth, Junaid Khan, was killed and four others were injured in a Mathura-bound moving train. The arrests come six days after the incident that took place on Thursday evening.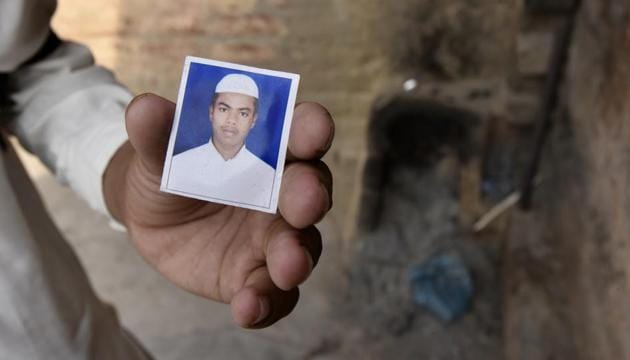 Among the four men arrested, three are in their 20s and work in private sector while one is in his 50s and works with the Delhi Jal Board. They are all residents of Khambi village near Palwal. Police claimed that the men were responsible for instigating others. The police have not yet identified the person who stabbed Junaid and his brothers Hashim and Sakir.
All men have been booked for murder, attempt to murder, wrongful confinement and deliberate and malicious acts, intended to outrage religious feelings or any class by insulting its religion or religious beliefs.
The police refused to reveal the names of the four as they are yet to undergo a test identification parade. Following the TIP, they will be sent to judicial custody. "We have made the arrest but we cannot reveal their names at this stage. Further investigation is on," SP, GRP, Kamaldeep Goyal said.
During questioning, the 50-year-old DJB employee told the police that the man, who stabbed the brothers, was not in their group but was one of the passengers. He told the police that he boarded the train from Okhla and saw Junaid and his brothers playing Ludo on the seat. He said they had spread the board out on the seat and so he asked them to shift. He told the police that though they let him sit, the three others who boarded the train from Bata town were refused a seat by the brothers.
"He said that Junaid and his brothers refused to move the Ludo board and the fight for the seat began. He confessed that the men had a scuffle and Junaid and his brothers were thrashed. He, however, said that the man who stabbed them was unknown to them," a police officer said.
The breakthrough came after the police scanned the CCTV footage accessed from areas near Asaoti village. It was only on Tuesday that the police raided the village where Junaid and his brothers were thrown off the train. They suspect that the accused belong to this village.
The police are now looking for men who stabbed Junaid and his brothers.
The police had earlier arrested one person, identified as Ramesh, in the case. He had told the police that he was drunk at the time. He told the police that he started thrashing the men as he was being instigated by the mob.