'The men asked me to attack them, I was drunk': Man accused of beating Muslim boy to death on train
Police said one person was arrested for his involvement in Hafiz Junaid's killing, which came amid several incidents of assaults on Muslims across the country over beef and cow slaughter.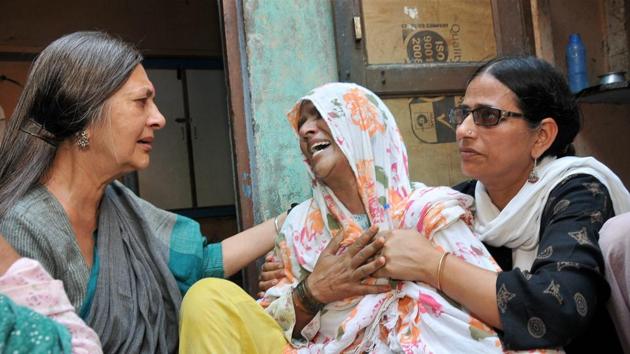 Updated on Jul 16, 2017 07:21 AM IST
"I was drunk. They told me to attack the boys because they are cow eaters."
This is what Palwal resident Ramesh told police after his arrest for allegedly stabbing to death a 16-year-old Muslim boy and injuring his three brothers on a Mathura-bound train on Thursday.
Ramesh, who uses only one name, was part of a mob that attacked the four brothers who were on their way back home to Haryana's Ballabhgarh after Eid shopping at Sadar Bazar on Thursday evening.
Police said on Saturday Ramesh told them that he boarded the train from Ballabhgarh and saw some men fighting over seats. This quickly turned communal as the mob repeatedly called the brothers "anti-nationals" and "beef eaters", threw their skull caps on the floor and taunted them with terms such as "mulla".
Since he was drunk, he joined in, police quoted Ramesh as saying.
"He said he heard the boys shouting for help and others calling them names. He said the men had cornered the boys and were instigating the people to thrash them as they were cow eaters," a police officer told Hindustan Times on condition of anonymity because he is not authorised to speak to journalists.
"He said he got swayed and started hitting them."
The murder was the latest in a string of similar mob attacks that have triggered outrage across India. In April, a Muslim dairy farmer was lynched in Rajasthan by alleged cow vigilantes. A month later, a frenzied tribal mob killed seven people in 24 hours in Jharkhand over child abduction rumours.
The dead boy was identified as Hafiz Junaid. His three brothers – Hashim, Moin and Sakir – who joined the victim in Ballabhgarh, were hospitalised with stab wounds.
Ramesh was arrested on Friday. Four others have been detained for questioning.
"Primarily four men launched the attack. From the accused we have recovered a few things that indicate his presence on the train and his involvement in the attack," Government Railway Police superintendent Kamaleeep Goyal said.
The victim's brothers have identified two attackers among the people detained. The police are yet to formally name anyone in the stabbing of the brothers but added the charge of hurting religious sentiments to the FIR. The weapon too is yet to be recovered.
To identify witnesses to the crime, a police team took the same train from Okhla to Ballabhgarh along with Hashim and Moin on Saturday.
"The police have asked us to identify even the onlookers and the men who were encouraging the attackers to beat us and kill us," Hashim said.
"We were shocked at the apathy of fellow passengers. No one has come forward to register a statement on the attack. That day we kept shouting for help but they all looked away. They saw the men slashing my brother's body, stabbing me and my other brother but did nothing.
"There was blood spattered all over the floor and the passengers just moved away as they dragged Junaid on the floor."
Close Story