Man tries to open door mid-air on Delhi-Ranchi flight, injures crew in scuffle
Jul 11, 2017 07:46 PM IST
The 32-year-old man, identified as Aftab Ahmed, was arrested after the plane landed safely in Ranchi. A few members of the crew and passengers were injured when they tried to stop Ahmed from opening the door.
A man tried to force open the emergency door of a flight before it could land at Ranchi airport on Monday night. He had boarded the AirAsia flight from Delhi.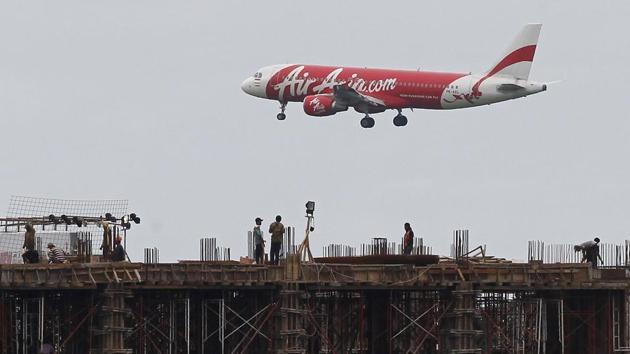 The 32-year-old passenger identified as Aftab Ahmed also injured a few fellow passengers and members of the flight crew when they tried to stop him.
Read: Air India to fine 'unruly passengers' up to Rs 15 lakh
Ahmed, a resident of Ranchi, was overpowered and handed over to the police at Ranchi after the flight landed safely.
The Air Asia flight (I5-546) had taken off from Delhi and was headed towards Kolkata via Ranchi. At around 9.50pm, Ahmed who was seated on 24-A suddenly tried to force open one of the emergency doors (R2) of the flight.
There have been several cases of unruly passengers in the recent past. In April, a passenger had to be tied down to his seat while travelling to Delhi from Dubai as he turned violent soon after the plane took off from Dubai.
In May, a Russian tourist, who wanted to open the door of a Delhi-bound plane mid-air, was whisked away by the police as the flight landed at Delhi's Indira Gandhi International Airport (IGIA). The tourist was later fined by court for attempting to open the door of the plane from Moscow as it approached the Capital, scaring the passengers and sending the air crew into a tizzy.