4 killed, 9 injured in shooting as gang war spills onto busy Delhi road
Updated on Jun 19, 2018 12:12 AM IST
A wanted criminal carrying a ₹2 lakh reward on is head carried out an attack against four residents of outer Delhi's Tajpur village, resulting in the shooting in north Delhi's Sant Nagar.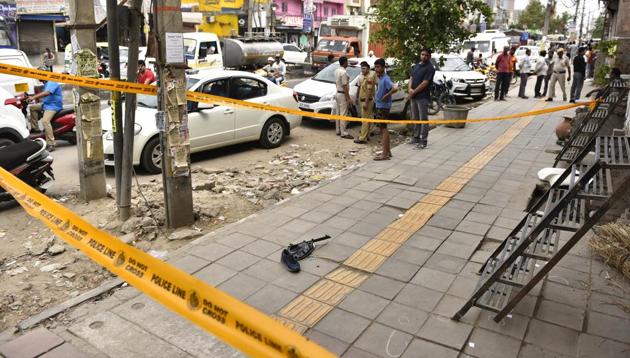 Hindustan Times, New Delhi |
Shiv Sunny
Two passersby and two residents of outer Delhi were killed and at least nine men were injured in a shooting and a related road accident in north Delhi's Sant Nagar on Monday morning, police said.
The attack was carried out against four residents of outer Delhi's Tajpur village by wanted criminal Jitender Mann alias Gogi, said MM Oberoi, special commissioner of police (special cell). Carrying a reward of ₹2 lakh on his head, Gogi physically led the attack in which at least two dozen rounds were fired, a survivor told police.
Police identified the dead as Sant Nagar resident Sangeeta Sharma, 37, a 20-year-old motorcycle rider Rajkumar, the 17-year-old prime target Mukul and Gogi's gang member Sanjeet. Those directly injured in the attack and a related SUV accident included five passersby.
Mukul was identified as the nephew of Deepak alias Raju, who was allegedly an associate of Gogi's rival and jailed gangster Sunil alias Tillu. "Deepak was gunned down by Gogi in 2015 for having an affair with Gogi's cousin," said Oberoi about the background of the 2015 murder.
"Mukul has been murdered for actively pursuing the murder case. The other men too were targeted as they often accompanied Mukul," said Oberoi.
The officer refused to call it a "gang war" and denied that the crime had anything to do with Gogi's rival Tillu. "The miscommunication early on Monday was because the four attacked men too are residents of Tajpur village from where Tillu hails. But none of them have a criminal past," said Oberoi.
Mukul was also found to be the cousin of a Delhi Police constable. The bulletproof Scorpio Mukul and his associates were riding was found registered in the name of the constable, said an investigator.
The investigation into the case has been transferred to the special cell unit, but Gogi and his associates remain elusive.
The crime took place at 9.50 am near Sant Nagar bus stop, barely 300-400 metres from Burari police station. The targets were the four Tajpur men, who had been frequenting a gymnasium there for years. They had arrived in a Mahindra Scorpio and was parked facing against the traffic.
After exercising, the men were returning to their Scorpio when a speeding Toyota Fortuner rammed their SUV. Eyewitnesses said the five men in the Fortuner began firing at the men in Scorpio.
"Two men in the Scorpio drove against the traffic to escape into a narrow street nearby. The Scorpio was chased by two attackers who fired multiple rounds," said a woman shopkeeper.
But most bullets missed their mark and hit three passersby, killing one and injuring two.
The two other men who couldn't make it to the Scorpio ran for their lives. "One of them escaped into the gym, but was chased inside and shot in his leg. The other man, Mukul, ran on the pavement, but couldn't make it far. He died of multiple shots," said Karan Kohli, a local shopkeeper.
The Scorpio, meanwhile, sped into a narrow lane before taking a sudden left turn, around 300 metres from the shooting spot.
"While swerving, it rammed a cyclist and three motorcycles. Four men were injured in the accident and one of them was dragged by the Scorpio," said Deepak Ahuja, a local shopkeeper. One of those accident victims, Rajkumar, later succumbed to his injuries.
The Scorpio's run immediately came to an end when it climbed a shop's concrete steps.The driver was later found to be shot in the back.
The attackers, on the other hand, fled unopposed in their Fortuner, which was soon found abandoned near a private hospital in Shalimar Bagh, 10 kilometres away. Inside the Fortuner was the body of Gogi's associate Sanjeet, prompting police to suspect that he was abandoned near the hospital in the hope he would receive medical treatment. Eyewitnesses were unsure if they saw the four targeted men firing in retaliation.
Jatin Narwal, deputy commissioner of police (north), said the possibility of firing by both sides "cannot be ruled out".
Investigators said they are probing if Gogi used a public phone booth to seek an alternative vehicle to facilitate their escape. Like most Delhi gangsters, Gogi does not use a mobile phone in his bid to keep the police off his trail.
Topics
Personalise your news feed. Follow trending topics