Rain hits road repair works in Delhi
Sep 26, 2018 03:12 AM IST
The dug-up roads, which are now inundated with rainwater, have been causing snarls across the city, Delhi Traffic Police said
The unusually wet September might have brought relief from humidity but has amplified troubles for the municipal agencies, which had started road repair and pothole-filling work after two months, expecting the showers to stop.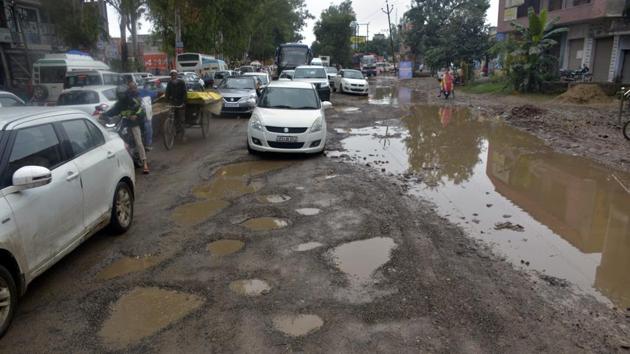 The dug-up roads, which are now inundated with rainwater, have been causing snarls across the city, Delhi Traffic Police said. The agencies have to halt work and pump out water before finishing the work in the rain.
Traffic officials said permissions for road repair are stopped during the monsoon months of July and August to avoid waterlogging, accidents and traffic jams. Road repair work resumes only by first week of September.
This year, however, because of the "out-of-the-ordinary" rainfall, most roads that were dug for repairs or for laying of utilities have been filled with water, creating problems for commuters.
"After monsoon, the permissions for repair usually doubles mainly because the agencies concerned are also tasked with filling the potholes that are aggravated during these two months along with completing the old repairs," said Alok Kumar, joint commissioner of police (traffic).
Following snarls, the traffic department has written to the municipal and road maintenance agencies to finish repairs as soon as they can so that traffic movement could return to normal.
Delhi government's Public Works Department (PWD) — responsible for the maintenance of roads wider than 60 feet — is currently repairing three roads but all the dug up sections have been filled with water and the supervisors will have to wait till the water dries up.
"At the Seelampur intersection, we pumped out some water but we will have to wait for the section to dry before we can resume digging work. We had to complete the work by Friday, but it is likely to take longer," said a PWD official, in-charge of the repair work in north-east Delhi.
Agencies have a similar problem in Mundka, where a dug-up section of the main road has led to incessant traffic snarls in the section. At Maujpur Chowk too, repair work by PWD is likely to affect traffic in the coming days.
"The request was for an urgent repair of a drainage pipe on road number 66. The traffic coming from Yamuna Vihar is likely to suffer," said additional commissioner of police (traffic) SN
Mosobi.