Safdarjung, the base station for Delhi's weather, saw a maximum temperature of 35.2 degrees Celsius (°C) – three degrees below normal for this time of the year and six degrees down from a day ago.

Met officials, however, said it is unlikely to bring down the maximum temperature substantially, and said mercury will still touch the 30°C-mark by March 10.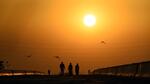 The downpours, which on Tuesday alone exceeded the average for the entire month of February, caused mudslides that buried homes, flooded streets, washed away cars and buses and left gashes hundreds of yards wide on the region's mountainsides.

The reasons for the large excess were three active western disturbances (WDs), including two that came in quick succession, which affected northwest India between January 5 and 9 and then January 21 and 24.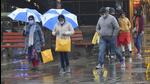 The weather body also projected that rainfall will decrease substantially in Delhi.