Deputy commissioner of police (outer) Sameer Sharma said, "Last rites of the last deceased Geeta Devi , one of the victims of Mundka fire incident, were performed at Sultanpuri crematorium. May all the 27 victims rest in peace," he said adding that police facilitated the funeral.
NEW DELHI: Manoj Kumar, 40, had been waiting for authorities to hand over the remains of the body of his wife Sweety, 32, who was among the 27 people charred to death in a devastating fire in a CCTV assembling unit in north-west Delhi's Mundka on May 13

With this, bodies of as many as 21 out of the total 27 victims have been recognised, police and forensic officials said on Wednesday.

Families of 19 persons on June 3 staged a protest demanding that they be given DNA reports so that they could get some closure regarding the fate of their loved ones and perform last rites in the event of them being dead and not "missing".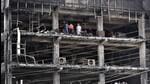 At least 27 people lost their lives and several others were injured when a blaze engulfed a three-storey building in west Delhi's Mundka on May 13.