Towering trash: Delhi garbage pile set to match Qutub Minar's height
Two persons died when the Ghazipur landfill caved in last year. It's now 65 metres tall, when the prescribed limit is 20 metres.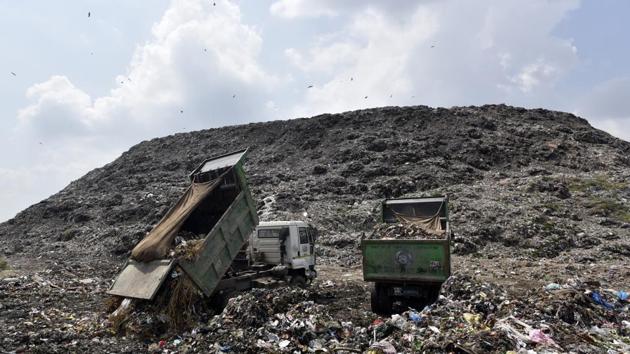 Updated on Aug 31, 2018 11:18 AM IST
One year after a part of the Ghazipur landfill caved in, killing two persons and prompting civic authorities in the city to promise a series of measures to control irregularities to avoid such disasters in the future, the national capital's mountain of garbage has only grown taller.
According to government data, the garbage pile had reached 60 metres at the time of last year's accident as against the prescribed limit of 20 metres. On Thursday, a senior official from the East Delhi Municipal Corporation (EDMC) said that the height of the garbage mound was now 65 metres.
"It is gaining height rather than losing because we have no alternatives to dispose of tonnes of garbage generated from east Delhi every day. Also, we are running under severe financial crisis and thus can't afford to invest on new projects," said Pradeep Khandelwal, chief engineer at EDMC's department of environment management services.
Two people had died on September 1 last year when a large part of the Ghazipur landfill — which should have been closed 15 years ago — collapsed, sweeping several people on a nearby road into a canal. Five others were rescued when locals dived into the fast-flowing canal.
Delhi's lieutenant governor Anil Baijal had banned dumping of waste at the Ghazipur landfill site immediately after the incident but, within a few days, dumping began at the landfill site despite his orders.
Experts say the civic agency has never concentrated on segregating garbage at the community level and looks for short-cuts to process garbage, such as burning them at waste-to-energy plants, and sends most of the garbage to the landfill.
"Even months after the notification of by-laws for Solid Waste Management in city, no stress has been given on establishing processing units to deal with biodegradable waste within the neighbourhoods. These projects do not cost more. The EDMC is still sending 55-70% garbage to the Ghazipur landfill," said Swati Singh Sambyal, programme manager, environmental governance at Centre for Science and Environment.
The municipal body generates 2,600-2,700 metric tonnes of garbage everyday, of which 1,100 metric tonnes is dumped at Ghazipur landfill, according to official data.
Khandelwal, however, said that the civic agency is trying to solve the problem. "In 2016, we had signed a memorandum of understanding with the National Highway Authority of India for using the waste of Ghazipur landfill to construct a 74 kilometres stretch of the 137-km-long Delhi-Meerut Expressway.But later, NHAI decided to use the material on only two kilometre stretch on a pilot basis. This has shattered all our hopes to reduce the height of garbage mound," he said.
The EDMC officials said they are actively working to acquire new sites — 88 acres at Sonia Vihar and 50 at Ghonda Gujran — suitable for solid waste management after the 2017 incident.
The Ghazipur landfill is among four dumpsites in the national capital, spread over 70 acres and now just 8 metres shorter than the Qutub Minar -- a stark reminder of administrative apathy and the capital's struggle with waste management.
Close Story
Personalise your news feed. Follow trending topics