Experts considered factors such as the leachate generated over time and the legacy waste accumulated at the landfills and the violations of solid waste management rules to calculate the damage to the environment.

A senior North MCD official said efforts to douse the fire were on till late night and the corporation has deployed excavators to dump sand on the origin point.

Delhi environment minister Gopal Rai said teams from the Delhi Pollution Control Committee and corporations will travel to Mumbai to check on the working model of this system.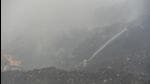 Several residents of the nearby Mulla colony, located about 500 metres away from the landfill, and those residing in several housing societies around the massive mountain of garbage, complained of difficulty in breathing and itching in the eyes.

There were eight fire tenders are at the spot to bring the blaze under control.