Realtor held for murder of ex-wing commander's wife
According to police, realtor had spent the previous night at the woman's house when her husband was away, smothered her, and fled with jewellery and cash.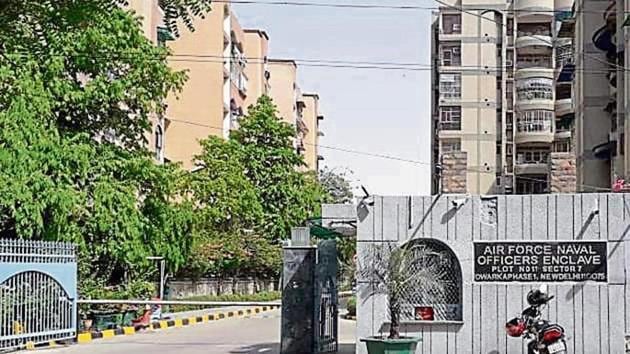 Updated on Apr 30, 2019 07:12 AM IST
Three days after a 52-year-old wife of former Indian Air Force wing commander was killed inside her house in south west Delhi's Dwarka, police on Monday claimed to have solved the case with the arrest of a 56-year-old realtor from Jaipur.
According to police, the realtor had spent the previous night with the woman at her house when her husband was away, smothered her, and later fled with her jewellery and cash. Police have identified the man as Dinesh Dixit, who is into real estate business.
The woman, Meenu Jain, was found dead in her house at the Air Force Naval Officers Enclave in Dwarka Sector 7 on Friday morning. Police said initial probe suggests the woman was killed during a robbery but they are yet to interrogate him at length to find out if he is telling the truth.
Deputy commissioner of police (Dwarka) Anto Alphonse said that police arrested Dixit from Jaipur. "He is being brought to Delhi. We are yet to interrogate him to understand what led to the murder and establish the sequence of incidents. So far, he has told us that he had visited Jain at her house on Thursday afternoon and then stayed there till Friday morning," the DCP said.
The DCP said Dixit confessed to have smothered Jain. However, post mortem reports are awaited to ascertain the cause of death. Police said they are yet to establish if a scuffle or argument led to the woman's murder as no external injuries were found on her body.
"Dixit has told us that he and the woman were in touch with each other for the past few months. He also said that he had visited her house many times in past months. He said he had taken her jewellery and cash and fled to Jaipur on Friday morning in his Swift Dzire car. His car was also recovered and it was found that the man had used a fake number plate to avoid being traced after the murder," the DCP said.
Police are also probing if Dixit had already planned to kill Jain when he reached her house on Thursday afternoon.
It was on Friday morning when Jain's father and brother, who had been trying to get in touch with her since Thursday night, visited her and found the house locked from outside. Sensing that something was wrong, they peeped in from the balcony of the adjacent house and saw that Jain was lying on the floor beside her bed.
The woman's husband, Vinod Kumar Jain, who works as a commercial pilot for a domestic airline, was on board a flight at the time of incident, police said.
Jain is survived by her husband, daughter and a son who works at a multi-national company in Noida and lives there. "He visited his parents at weekends," police said.
Jain's father HP Garg, a former professor of IIT Delhi, said the family did not know about her connection with Dinesh Dixit. "I or even Vinod or Meenu's children did not know Dixit. We had never heard about him. Police told us that Dixit is a criminal. I believe he had trapped my daughter," said Garg. He said that 95% of the stolen jewellery and cash has been recovered.
Close Story
Personalise your news feed. Follow trending topics