Sacked AAP minister Kapil Mishra's new graft charges on Kejriwal, Jain
Jul 02, 2017 05:12 PM IST
AAP MLA says alleged fraud in procurement of medicines, ambulances part of irregularities in health department that cost exchequer Rs 300 crore
Rebel Aam Aadmi Party (AAP) legislator Kapil Mishra made new allegations of corruption against Delhi chief minister Arvind Kejriwal and his cabinet colleague Satyendar Jain on Saturday.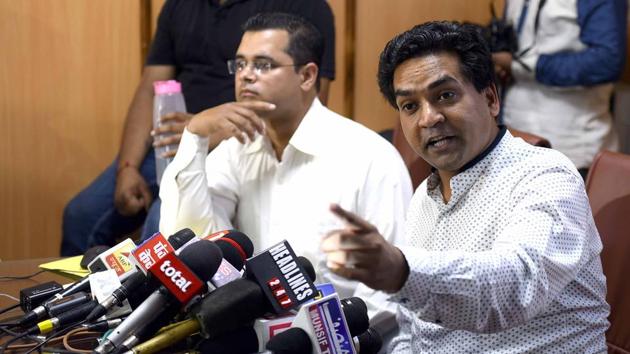 Mishra said Kejriwal and Jain, the Delhi health minister, are misappropriating funds from the health department.
"There are three big scams related to the health sector which is headed by Satyendar Jain," he said.
The first scam, he said, was in procuring medicines and was worth more Rs 300 crore.
"The government bought medicines worth crores of rupees six months in advance even when hospitals said they don't need them. Three godowns were built to store the medicines which are now going waste as there are no takers".
Mishra said former health secretary Tarun Seem was involved in the irregularities.
The second case of corruption, he said, was in the purchase of 100 ambulances. "Immediately after procurement, four of these 100 ambulances caught fire. How could the government go ahead with more such vehicles without getting their fitness checked thoroughly?" Mishra, Delhi's former water minister, said.
In his third allegation, Mishra said Jain had appointed at least 30 medical superintendents in hospitals such as Aruna Asaf Ali without following due process. "No rule was followed in appointment of 30 MS. This case is exactly the same as the appointment of Nikunj Aggarwal as the OSD of Satyendar Jain – the case which is already being probed by the CBI," he said.
Mishra, the MLA from Karawal Nagar, also said he would meet Lieutenant-Governor (L-G) Anil Baijal to discuss the matter and register an FIR.
"I have sought time from the L-G. The matter is serious and needs immediate intervention of the L-G. I will also go to ACB (anti-corruption branch of the government) for this," he said.
The Aam Aadmi Party was expected to make a statement in response to his allegations later on Saturday.
Mishra fell out with the party early this month when he was removed as the water minister. Days after, he accused the Delhi chief minister and his former cabinet colleagues of corruption.
"Exciting news! Hindustan Times is now on WhatsApp Channels
Subscribe today by clicking the link and stay updated with the latest news!"
Click here!