Social media drive gets over a million rupees for family of Delhi worker who died cleaning a sewer
The news and photos of the successive deaths of the father and toddler son led to many people on Twitter offering to help the family.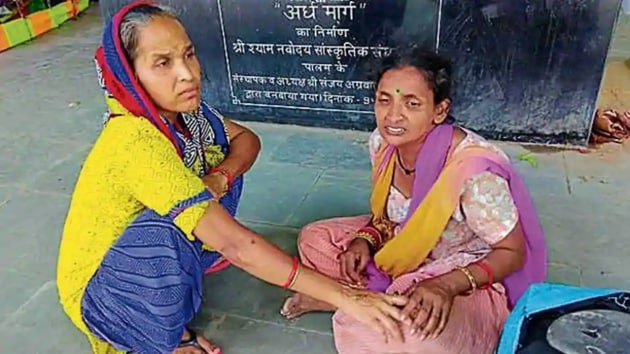 Updated on Sep 17, 2018 11:51 PM IST
Hindustan Times, New Delhi |
Shiv Sunny
Manual scavenging appeared to be the only future in store for 11-year-old Gaurav, whose father, Anil, died while cleaning a sewer in west Delhi's Dabri on Friday.
The family didn't even have money to cremate Anil , and sending Gaurav to school would have been a far cry.
On Monday, however, nearly 900 good Samaritans came to the boy's rescue – and though they may not be able to compensate for the loss of his father's life, they may at least ensure that Gaurav has the means to give himself a shot at a life of dignity.
After a tweet of Gaurav's photo with his father's body was posted by this reporter on Monday morning, it led to thousands of retweets, and to an NGO setting up a bank account for donations via an online crowd funding platform.
"It was heartbreaking to know about this family. We were devastated," said Rahul Verma, founder of NGO Uday Foundation, who contacted this newspaper and Ketto to initiate the crowd funding around 1.30 pm on Monday.
The target was to raise ₹24 lakh over a fortnight.
Over the next nine hours, until 10.15 pm, over ₹17 lakh had already been collected on Ketto through contributions ranging between ₹15 and ₹50,000 by more than 887 donors.
"Much of the money will be kept in the form of fixed deposits in the name of the children. The rest of the money will be handed over to the family for education and their sustenance," Verma said.
On Monday, the boy recounted how he would often accompany his father to work, but hadn't yet entered a sewer. "My father would enter the sewer in his underpants and I would wait outside guarding his clothes and shoes from thieves. My father would say it still wasn't yet time for me to enter the sewers," he said.
On days he stayed back home, he would eagerly wait for his father to return. "My sisters are too young to play with me. My mother is always busy with work. My father would take me out to the street to play with me. Sometimes I would fight with him, but he wouldn't get angry," said the boy.
The boy and his two sisters, aged seven and three, look half their age. "They have never had enough food. They are malnourished," their mother Rani said.
But with the funds likely to reach them soon, the children may have enough to eat. The money could also mean that the family of four won't have to immediately move out of their one-room set, much of which is occupied by their landlady's belongings. "They hadn't paid the ₹3,500 monthly rent for three months and would have had to vacate. Now it seems they may pay their rent soon," said their landlady, Ramo.
The Delhi government, too, said it was ready to give R10 lakh to Anil's family.
Anil had died just six days after losing his four-month-old son to pneumonia. Neighbours recounted how a day before his younger son's death, he had gone asking neighbours to lend him money for medicines, but they weren't able to help.
Anil's death had occurred when a "weak" rope tied to his waist had snapped while he was being lowered into a sewer by a local resident, Satbir Kala, who wanted to stop seepage of water from the sewer into the basement of his building. Kala had allegedly gone ahead with the work despite repeated warnings that the act was unsafe.
To contribute for Gaurav's future, donations can be made on https://www.ketto.org/fundraiser/anilsfamily.
Close Story
Personalise your news feed. Follow trending topics