Meet these five Delhi super cops who tailed, caught 500 criminals last year
Among the five, posted in different locations, ASI Rajesh Kumar Pahal of Punjabi Bagh police station topped the list with 129.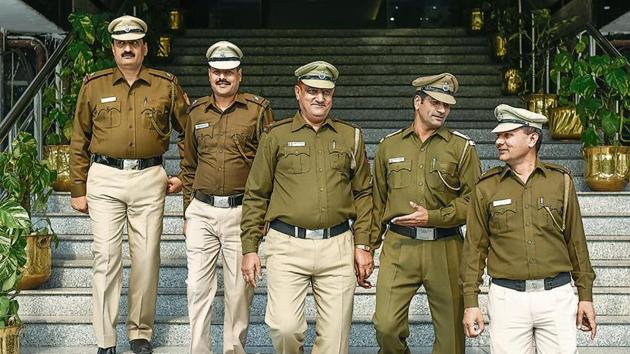 Updated on Apr 23, 2018 09:04 AM IST
New Delhi, Hindustan Times | By Karn Pratap Singh
They are the Famous Five of Delhi police and colleagues call them the "star catchers" — five assistant sub-inspectors (ASI) who tailed and caught almost 500 proclaimed offenders in 2017, more than one-fourth of what the entire force managed that year.
Among the five, posted in different locations, ASI Rajesh Kumar Pahal of Punjabi Bagh police station topped the list with 129.
In all, he claims to have nabbed around 1,500 proclaimed offenders since 2008, the year he became part of a team assigned to catch fugitive criminals. The squad was led by now-retired inspector Joginder Singh, who caught more than 3,500 proclaimed offenders in 39 years.
Pahal joined the force in 1993 and worked as a driver in police stations. Between 1998 and 2007, he drove official Gypsys of the station house officers of Daryaganj and Paschim Vihar police stations.
Pahal accompanied them in several operations to catch proclaimed offenders. "The working style and dedication of those officers made them favourites of their seniors. This impressed and inspired me and I decided to be like them," he said.
The opportunity came in 2008 when inspector Singh put him on the trail of a fugitive named Virender Singh from Haryana's Bahadurgarh, a bus driver hiding for almost 25 years after he ran over a man in old Delhi in 1983 and fled. The man died and a court declared Virender a proclaimed offender.
Pahal worked his intelligence network and learned that Virender had returned to his village after many years and was looking for a job desperately.
Pahal disguised as a transporter, went to his home and told the fugitive's wife that he was looking to hire an honest and trustworthy truck driver. "She asked me to wait but I left, giving her my contact number," he said.
Virender called two days later and sought to meet at a bus stop on Jhajjar road. When he arrived in an auto-rickshaw, a police team was waiting for him. "Virender was the first proclaimed offender I caught. He was carrying a reward of Rs 5,000," Pahal said.
A judge can declare a suspect a proclaimed offender, in accordance with Section 82 of the criminal procedure code's (CrPC), if the person is "absconding" or evading arrest.
In 2017, Delhi police claim to have caught 1,951 people proclaimed offenders who have either jumped bail or were on the run since the day the crime was committed. These suspects were involved in crimes ranging from murder, robbery, rape, and vehicle theft to petty offences.
ASI Bhagwan Singh of Jamia Nagar police station caught 107 fugitives last year, followed by 100 by ASI Naresh Rana of Alipur police station, and 86 and 76 each by ASI Krishan Kumar Yadav of Sangam Vihar and Jagat Singh Jatav of Palam Village police station.
Rana, the eldest and most experienced among the five, caught 98-year-old Rajrani this New Year's Day.
She was declared a proclaimed offender 15 years ago after she jumped bail in a bootlegging case.
"She was 81 when she was arrested by Uttam Nagar police for allegedly selling illicit liquor. She got bail and never went to court for the trial. The Tis Hazari courts declared her a proclaimed offender in 2003," he said.
In the meantime, Rajrani left her Uttam Nagar house. "The house was sold five times thereafter. The only clue available was her name and that of her husband, Deshraj," Rana said.
He scanned Delhi's voters list on the Election Commission website and found at least 50 Rajranis with Deshraj as the spouses' name. Rana put her tentative age and the list narrowed down to two.
"One of the addresses was Dal Mill Road in Uttam Nagar. I visited the house and met Rajrani, who was fit for her age and walked without help. She was with her 76-year-old son," Rana said.
Rana produced her in court that day itself. "The judge was surprised. The court released her with a fine considering her old age," he said.
Each one of these five ASIs is a repository of gripping stories of surveillance, stakeouts and stealth to track down fugitives. ASI Jakhar posed as a farmer to arrest a suspected rapist, Zafaryab, who was declared a proclaimed offender in 2013.
He found out from informers that the suspect was working as a bank loan recovery agent in his native village in Uttar Pradesh's Bijnore and helped farmers get agricultural loans.
"I met Zafaryab and requested for a loan. He agreed to take me to the bank manager and my teammates and I laid a trap. We caught him and brought him to Delhi in my car, despite strong resistance from villagers," Jakhar said.
ASI Bhagwan Singh recalled the frustration of at least 15 failed attempts to arrest a man wanted for allegedly raping his married cousin, and the joy of success after digging in for almost four months.
The rape case was registered against a resident of north Delhi in 2015, but he was on the run and a court declared him a proclaimed offender that year. Singh took up the case in 2017 but the suspect's family had moved elsewhere by then after the father, a Delhi government employee, retired in 2016.
The officer persevered and caught him finally.
During difficult times, ASI Yadav said they go back to their mentors and discuss problems. "Their advice keeps us going."
It was guidance from seniors that inspired and turned five constables into ASIs with a unique knack for prizing out criminals from their hiding holes. Delhi police have over 80,000 personnel, but only a few are selected for the task that these ASIs are capable of accomplishing.
Their skills and intelligence apart, the motivation to chase down a fugitive comes from three incentives that, according to Yadav, are — an out-of-turn promotion by arresting over 80 proclaimed offenders, including 40 involved in heinous crimes, in a year; reward money; and the acknowledgment and appreciation with each success.
Yadav said the add-on is the money — rewards of Rs10,000 for a criminal involved in a serious crime and Rs5,000 for someone wanted for a non-heinous crime.
Son of a retired Delhi police inspector, Yadav wanted to become a policeman but not below his father's rank. But he failed thrice to qualify for the post of sub-inspector and joined as a constable in 2001.
His dreams almost crashed when he was wounded in a clash with protesting lawyers in 2009 and his left knee needed surgery. Doctors told him he will never run again. "I went into depression but an inspector told me I could still fulfill my dreams by catching proclaimed offenders. I caught 86 last year and got promoted from head constable to ASI," Yadav said.
Each mission brings its own set of risks and challenges to these five ASIs.
They have found themselves surrounded by supporters of suspects, got attacked by villagers, and were wounded on several occasions.
"Apprehending habitual criminals in covert operations is always a big professional challenge. Most of the times in sensitive areas it is risky. Police have to remain extra careful, professional and courageous. It may land them in trouble at the slightest of faults," Delhi police chief spokesperson and special commissioner of police (traffic) Dependra Pathak said.
They are assigned regular duties such as maintaining law and order, visiting courts, securing streets and night patrol. But the ASIs said they can't resist the thrill of going after a fugitive.
Close Story