Told to shut down 15 years ago, Ghazipur landfill was a disaster in making
Sep 02, 2017 12:39 PM IST
Although the civic agency claim to have hired private concessionaires to segregate, recycle and compress the waste, a large part of it remains unsegregated and is dumped at the already filled dumping site
The Ghazipur landfill site, a part of which collapsed on Friday killing two persons, should have shut down in 2002. But more than one-fourth of the garbage collected in Delhi is still dumped at the site daily.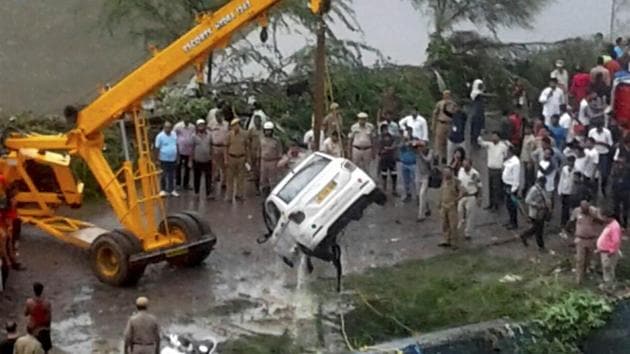 As trash piled up for years at this saturated location near Delhi border, the East Delhi Municipal Corporation did little to find an alternative. The East Delhi Municipal Corporation officials say that the danger is not over yet as many more portions of this garbage mound can collapse any time now.
Present situation
Every day, 3,000 tonnes of garbage is dumped at the Ghazipur landfill. Although the civic agency claim to have hired private concessionaires to segregate, recycle and compress the waste, a large part of it remains unsegregated and is dumped at the already filled dumping site. There is a waste to energy plant at site that treats only 1,200 tonnes of waste.
For permanent solution, the EDMC had signed a memorandum of understanding with the National Highway Authority of India for utilising the segregated waste for embankment of roads.
But the project was put on hold after if was found that the segregated waste has no calorific value. "Now the court has directed the NHAI to revisit the project and use it for road widening. We are expecting to start the tendering process by September 20," said a senior East Delhi Municipal Corporation official.
Lack of management
The landfills at Ghazipur and Bhalswa were commissioned in 1984. The one at Okhla was added in 1996. Except for the Narela-Bawana dumpsite that was commissioned in 2009, the other three violate state regulations.
They are not designed according to the Municipal Solid Waste Rules of 2000, which mandates all such dumpsites to have eco-friendly garbage management facilities. Not just that, the landfills have no facility for material recovery, treating leachete and producing refuse derive fuel.They have no certification from Delhi Pollution Control Committee and should have shut down in 2002.
"But the civic agency has no other option. There are no other sites that's why they continue to dump trash here," said KS Mehra, former commissioner of unified MCD.
For years, civic agencies have been repeating plans for reclaiming the oversaturated landfills but nothing has changed on the ground.
Non-availability of land
The municipal agencies have been repeatedly demanding more land from the Delhi Development Authority to set up landfills and waste-to-energy plants.
But, the sites allocated to the municipal corporations two years ago, are still unused. According to MCD officials, the sites provided are either too small to be used as landfill sites or not been demarcated properly by DDA.
However, Delhi Development Authority (DDA) blamed the three civic bodies for delay in creation of Sanitary Landfill Sites (SLFs) in Delhi. It said that the authority had allotted large chunk of lands as per their requirement. "As and when they made a requisition, the DDA allotted sufficient amount of land to the three corporations, including the east civic body for the purpose. However, they have failed to set up garbage dumps there. A piece of land measuring 150 acre in Ghonda Gurjan was alloted to east corporation but it has having some legal issues and the matter is before the National Green Tribunal (NGT)," he said.