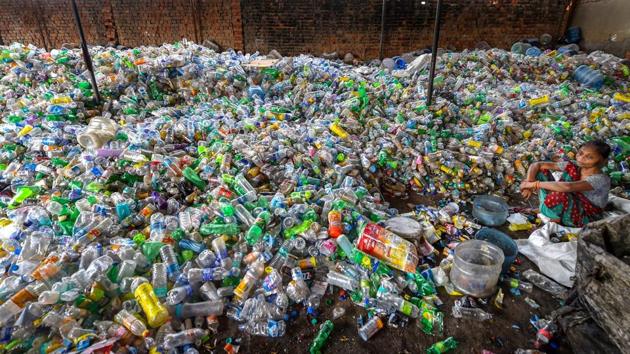 World Environment Day 2018: In Delhi, plastic waste management rules remain on paper
On World Environment Day 2018, experts say it is the responsibility of companies to take back plastics and multilayered packaging that they introduce. Incentives can be provided for this
UPDATED ON JUN 05, 2018 12:14 PM IST
As Delhi observes yet another World Environment Day on June 5, this time the theme being 'Beat Plastic Pollution', NGOs, private companies and pollution controlling agencies have organised a flurry of activities to beat the plastic menace.
But even more than two years after the Plastic Waste Management Rules, 2016, came into effect, its provisions have largely remained on paper.
The rule, which was notified by the union ministry in March 2016, had introduced several new features such as the extended producers' responsibility (EPR) to pin responsibilities of producers and generators in the plastic waste management system and a collect-back system to deal with such waste.
Experts say had the rule been enforced, it would have brought a sea change in how plastic waste is managed in the entire country.
The only provision that the city has tried to enforce is the ban on polythene bags less than 50 microns. Following an order of the National Green Tribunal in 2017, the Delhi government and civic agencies had initiated a crackdown on polythene bags measuring less than 50 microns.
"But even that initiative seems to have lost its edge with time," Chitra Mukherjee, head of programme, Chintan – a Delhi-based NGO, said.
Till date, apart from penalising a few traders and seizing a few tonnes of polythene bags measuring less than 50 microns from Delhi's markets, little has been done to enforce the rule. The amount of seized polythene bags is, however, just a fraction of what is used and circulated in the national capital.
"The Plastic Waste Management Rules, 2016, talk of extended producer responsibility, banning plastics less than 50 microns in size and phasing out multilayered plastics, but these are not happening on the ground. There has been no implementation of EPR as of now. Neither has there been any guideline that industries can follow. Almost 25 states and UTs have banned plastic, but we still see it everywhere. What can be done?" said Swati Singh Sambyal, programme manager of environmental governance (waste management) at the Centre for Science and Environment.
Experts say it is the responsibility of companies to take back plastics and multilayered packaging that they introduce. For the same, incentives can be provided to consumers to return used plastics such as PET, sachets, and packaging, among others. Also, use of products such as disposable spoons, cups, plates and straws should be banned as they are a major menace. Instead, viable substitutes should be used.
The 2016 rules also say shopkeepers and street vendors willing to provide plastic carry bags shall register with the local body on payment of a plastic waste management fee of Rs 48,000 per month. Only registered shopkeepers or vendors shall be eligible to provide plastic bags to carry commodities.
A senior officer of the North Delhi Municipal Corporation said, "Nothing in this regard has been done so far as this is, practically, not feasible. We had raised the issue in a meeting with the state environment department. How can a street vendor pay Rs 48,000 every month?"
A senior official of the Delhi Pollution Control Committee said Delhi had proposed a blanket ban on plastic and polythene bags, but it was challenged by the plastic manufactures in the court.
"The only way to stop the plastic menace is a blanket ban. Else, it would be difficult to tackle the issue as vendors and local shopkeepers would continue to use them. It is impossible to visit every shop and vendor with a machine to measure if the polythene bags are less than 50 microns. Awareness is also needed," the DPCC official said.
As far as promoting the use of plastic waste for road construction is concerned, Manoj Parida, secretary, state public works department, said there are no such practices in place at present.
"We are planning to do so in the future wherein plastic would be used for road construction and repair," Parida said.
Close