Delhi: Auto-rickshaws have a free run as Ola, Uber drivers' strike enters Day 4
Feb 14, 2017 10:35 AM IST
Auto drivers were reportedly fleecing commuters as office goers turned to alternative means of transport. The strike by drivers of Ola and Uber which entered the fourth day on Monday, also caught many arriving in Delhi via air or train, unaware.
A number of office-goers had to resort to alternative ways to reach their workplace on Monday morning in view of a strike by drivers of app-based cab services. However, there were still some who were stumped by the lack of Ola and Uber vehicles.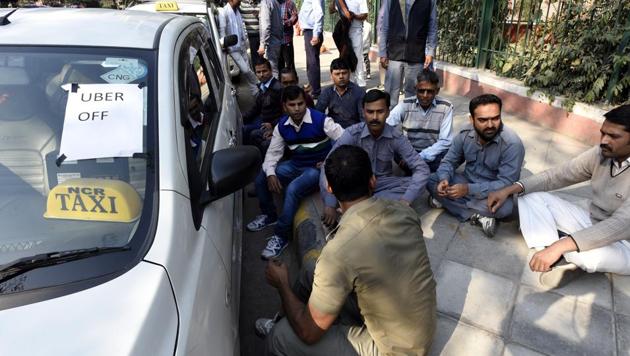 Those who arrived at the Delhi airport or railway station in the morning were the worst hit with return of surge pricing. In most cases, auto rickshaw drivers were reportedly fleecing commuters and refused to go by the metre.
"I paid Rs 270 for an auto ride from New Delhi railway station to CR Park. The usual rate is Rs 120 by metre and Rs 150 otherwise. When I tried bargaining, they sarcastically asked me to book an Ola instead," said Junhai Jaiswal, who arrived in the capital early on Monday.
A number of office-goers used the Metro services or arranged for private cabs along with their colleagues.
The strike by drivers of the two mobile-based cab aggregators entered its fourth day on Monday with no sign of a let up. Around 1.5 lakh such cabs ply in Delhi-NCR on a daily basis. The situation could have been worse but, the kaali-peeli taxi and a section of auto-rickshaw unions pulled out of the strike on Sunday after a meeting with transport minister Satyendra Jain.
Nevertheless, auto drivers claim their demand has seen a spike after a long time. Ola and Uber had grabbed a major chunk of their business specially after the companies introduced the share or pool service. "Since morning I have made at least six trips to and from Pragati Maidan metro station. It feels like the good old days are back," Rajneesh Tiwari, an auto driver said. Delhi has over 85,000 auto-rickshaws.
There were several daily cab users who blamed these companies for not resolving the issues sooner. "Why should we suffer? Just because they are private companies does not mean they can't be held accountable. Whatever issue there is, they must sort it out," said Rahul Shrivastav.
Another daily user, Tamanna Angral, said she felt cheated by these companies. "I bought an Ola Share pass which will expire on Tuesday. I still have at least four rides left, but can't avail as there are just no cabs available. This is cheating," she said.