Busy spots, markets in Delhi yet to get pollution alert boards
Published on Jul 13, 2016 11:19 PM IST
Delhi's air quality in July is the best in a year but unless you seek out the information on websites, you wouldn't really know it.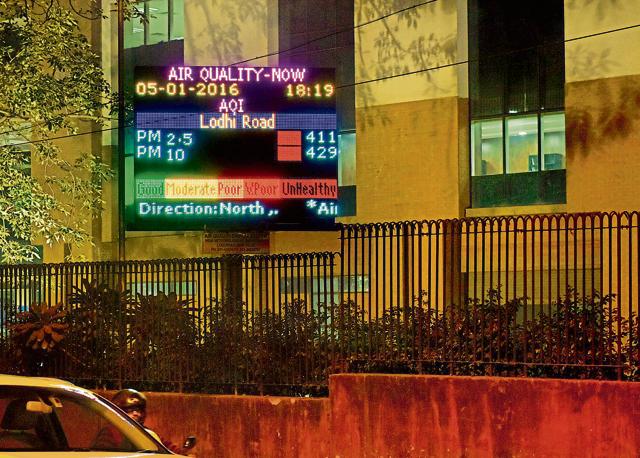 Hindustan Times |
, New Delhi
Mallica Joshi
Delhi's air quality in July is the best in a year but unless you seek out the information on websites, you wouldn't really know it.
Screens that display information about air quality in the city are tucked away in corners that few visit. The Delhi government drew up plans to put up screens in several popular spots across the city in December when the odd-even car rationing scheme was announced.
At present, there are five screens that display air quality information in the capital. Three of these are outside the Delhi Pollution Control Committee's (DPCC) monitoring stations in RK Puram, Anand Vihar and Punjabi Bagh. One is outside the office of the India Meteorological Department on Lodhi Road and another at the Delhi Secretariat.
The government has been planning to install screens on busier spots, such as markets, to increase awareness. The project, however, will take at least till August next year to get off the ground.
Read: Pollution spiked during odd-even due to crop burning, says CSE analysis
"Installing screens is only a part of the process. We are first looking at widening our air quality monitoring network to come up with one air quality value for the entire city. For someone standing in Sarojini Nagar, there is no use of air quality information from Punjabi Bagh. A single value is more useful. For this, we are getting more stations in collaboration with NTPC so that we can fill the gaps. If needed, we can also shift existing stations to make a more efficient grid-like network," said MP George, DPCC's Air Laboratory.
After that, the committee will have to decide what information, and in which form, is to be displayed on the boards.
"This exercise usually takes around 18 months but we are trying to get it done in 13 months," he said.
A number of cities in the world have a system for displaying air quality levels along with warnings. Beijing displays air quality information at many places in the city. Along with the information, it also has a set procedure for when the quality breaches a certain level. Schools are closed, industries shut and vehicular restrictions imposed when the quality dips. Activists in India have been demanding a similar set-up in Delhi so that people are aware of the poor air quality on a given day.
According to environment minister Imran Hussain, though, Delhi may not need such a system.
"I don't think we should think about closing schools. Even homes are polluted. We are working at remedial measures so that the pollution is controlled and we are positive that it will happen soon. Emphasis on planting more trees is our first step," he said.
Read: No clarity in pollution trend at borders
Delhi's air pollution became part of everyday conversations when the World Health Organisation declared it the most polluted city in the world in 2014.
Personalise your news feed. Follow trending topics