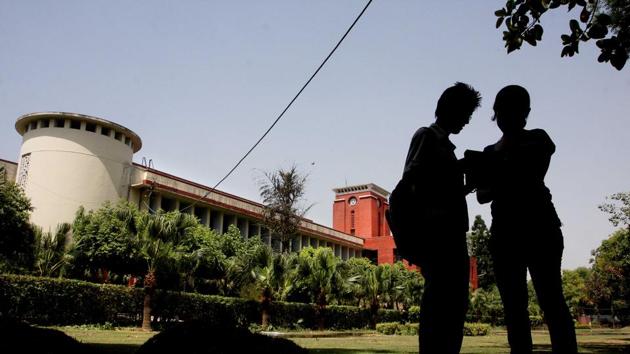 Consult us before changing syllabus: 124 DU English teachers write to dept head
UPDATED ON MAY 02, 2017 11:40 PM IST
After a core committee of the Choice Based Credit System at Delhi University's English department proposed introduction of Chetan Bhagat's Five Point Someone and 'Facebook post writing' under the English Generic Elective course, a group of teachers have written to the head of the department to hold a meeting on the changes proposed in the syllabus.
The letter, signed by 124 English teachers, to Christel R Devadawson, states, "wittingly or unwittingly, there is a serious participatory deficit in the process that finalised the proposed syllabus". The letter was written on April 27.
"We are told that 29-32 people participated in the process, how it was chosen and constituted we are not aware. Our point is only that the constitution process should have been open. Teachers from 63 colleges want to contribute to this process," said Sachin Nirmala Narayanan, an English teacher who wrote the letter to the head.
Citing the route taken by other department like history, where a general body meeting with teachers was held and sub committees constituted for each paper, teachers want the department to adopt a more "democratic process".
The letter states that out of the 800 teachers, only 30 of them were taken into loop and the changes proposed. "We acknowledge and appreciate the hard work put in by the colleagues who were part of this exercise but there is a greater need to expand on their work," said the letter.
The letter also states that only after the changes were proposed, feedback was sought from the college teachers. The English department has sent the proposed changes to all colleges and the teachers are suppose to send in their feedback by May 1st.
"The feedback letter from the head is also very restrictive. It categorically states that no changes can be proposed for the BCom and BA (Hons). The letter also states that only 10% revision was permissible whereas under the rule ratified by the university upto 30% changes can be introduced," said Narayanan.
The letter inviting feedback was sent on April 20 and teachers had to sent their replies by May 1.
"I have been receiving letters from the colleagues with demand for a GBM and I am looking into it on deciding how it can be done about. I am hopeful of coming to a consensus ," said Devdawson.
Close