Hauz Khas rape: Suspect, aide identified by Delhi Police, could be minors
A day after a 24-year-old student from Nagaland was allegedly raped inside south Delhi's Deer Park near Hauz Khas Village around 2 am on Sunday, the police have detained six men.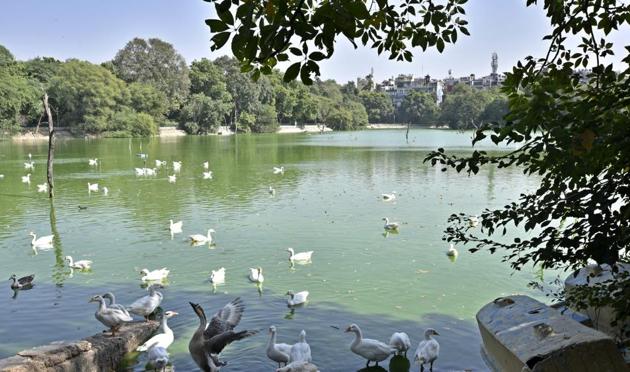 Updated on Feb 21, 2017 07:20 AM IST
A day after a 24-year-old student from Nagaland was allegedly raped inside south Delhi's Deer Park around 2 am on Sunday, police claimed to have identified the alleged rapist as well as his friend.
The police raided their homes and suspected hideouts on Monday but the suspects remained untraceable at the time of filing of this report.
Persons known to the suspects allegedly told the police that the two accused could be minors. But the police said the information would be confirmed only after the suspects are arrested and their identity proofs are checked.
A sketch of the alleged rapist, prepared by the police based on the victim's description, helped identify him. His friend was identified through CCTV footage from outside a restaurant.
Confirming the development, RP Upadhyay, Joint CP (South-Eastern Range), said the accused lives near the crime spot. "We hope to nab him soon," he added.
Around 25 teams consisting of three-four policemen each were deployed after the woman reported the rape around 2.45 am on Sunday.
Since the woman had said she had hit the alleged rapist on his head with a stone, the teams have been told to look out for men with head injuries.
Investigators said a man with a bandaged head was questioned for around 30 minutes. He was let off because police could not establish his involvement in the case.
The victim, who lives in South Delhi, was visiting Hauz Khas with her cousin on Saturday night. As they walked out of the village around 1.30 am, they looked for a cab, police said. It was then that two men approached them and offered to drive her home in their car.
As they were walking towards the car, one of the men asked the victim to accompany him to the Deer Park, saying there was a dry lake he wanted to show her, the joint CP had said.
They scaled the wall of the locked park and walked to the lake where the accused tried to pin her down. When she resisted his attempt and hit his head with a stone, the accused allegedly beat her and raped her twice.
He then escaped from the spot. The woman walked to the road where she found some policemen manning a picket. She told the police about the incident.
The woman was sent for medical examination and her statement was recorded for registering a rape case. "The victim is still in shock and is being counselled," said the officer.
Read: Let's talk about rape | Do not take the blame on yourself, don't break: Uber rape survivor's letter
Close Story