Mother, daughter locked in Delhi room starved for 4 years, weigh less than 25 kg
Updated on Mar 24, 2017 07:41 AM IST
A woman and her daughter in southwest Delhi stayed locked up in a room in their house at Mahavir Enclave for the last four years. Delhi Police rescued them on Wednesday.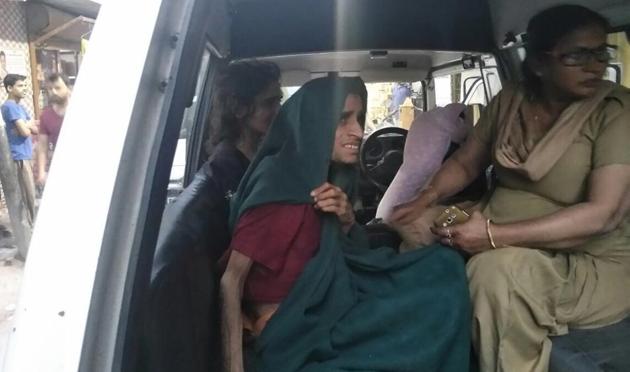 Delhi Police on Wednesday rescued a woman and her daughter, who had been living locked up in their house for the last four years, in southwest Delhi's Mahavir Enclave.
Police said they were found malnourished and living in unhygienic conditions. The woman's elderly father-in-law lives in the same house.
The matter came to light when a resident of A-block at Mahavir Enclave-II reported the matter to a local media channel and the police. He claimed that the two women - Kalavati (42) and her daughter Deepa (20) - were forcefully locked up in a first-floor room at a house nearby.
However, when the police went to their house, the women told them that they were living inside out of choice. The police have now referred the two women to IHBAS (Institute of Human Behavior and Allied Sciences).
"Clearly their mental condition is unstable. They are undernourished and both weigh not more than 25 kg. We have referred them to IBHAS and will oversee the treatment," an official said.
According to the woman's father-in-law, Mahaveer Mishra, Kalavati and Deepa had locked themselves up in the room since his sons' death in a road accident in 2013. Mishra's wife had passed away in 2000.
Police officials said Mishra stayed in the next room and gave them food once a day whenever they asked for it.
When the police tried to take them to the hospital on Wednesday, they refused to step out. The police, however, took help of a counselor to convince them after which they were taken to DDU hospital in Hari Nagar for treatment. They say the two women were hallucinating.
"The woman often claimed to have been speaking to her husband and went on without food for days during these bouts. In his statement, the elderly man said that he has been getting them treated by a local doctor, as he did not have enough savings to take them to a hospital," an official said.
Mishra was a linesman retired from the MTNL and gets a monthly pension of Rs 16,000.
"He said that the women hardly ate in the last four years and never stepped out of the house. He also said that whenever he took them to the doctor, they refused to tell their symptoms to the doctor because of which they could not be treated," he added.
Personalise your news feed. Follow trending topics