Drinking water straight from taps in Delhi soon, AAP govt launches pilot project
Updated on Mar 23, 2017 07:51 AM IST
The Aam Aadmi Party (AAP) government inaugurated the pilot project to provide 24x7 potable water straight from the tap to residents at Navjivan Vihar in south Delhi on Sunday.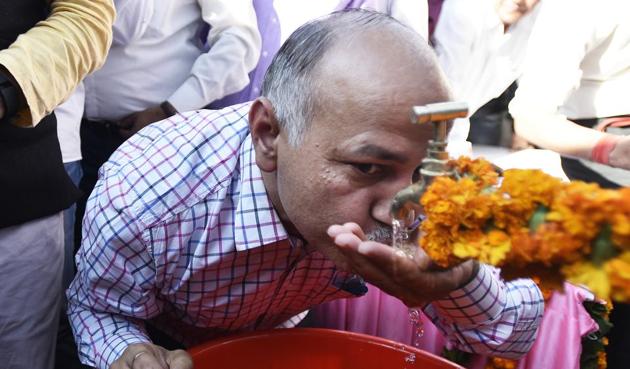 The Aam Aadmi Party (AAP) government inaugurated its ambitious pilot project to provide 24x7 potable water to residents of Navjivan Vihar in south Delhi on Sunday.
Quality potable water, which residents would be able to drink straight out of the tap and would require no additional filtering or decontamination, was described by deputy chief minister Manish Sisodia as a "dream" that was being fulfilled while inaugurating the project.
Kapil Mishra, the water minister of Delhi who was also present at the event, said that soon all Delhiites would be able to drink water straight from their taps, as the ministers did on Sunday in Navjivan Vihar.
"Entire Delhi has been divided into 1,010 units (where water supply networks can be isolated and fixed). All these areas will soon get 24x7 supply of direct from tap drinking water," said Mishra.
However, the project is to be handled by the same company that had failed to implement the supply improvement programme in Malviya Nagar earlier.
The new project in Navjivan Vihar is part of the larger project in the Malviya Nagar area, where the Delhi Jal Board had proposed their ambitious "Water Service Improvement Scheme", a private-public partnership with a consortium of French company Suez and infrastructure company SPML Infra Ltd, in 2012.
"Navjivan Vihar was not 'chosen' per se for the pilot. It is part of the Malviya Nagar project area. It is always complicated to change an intermittent water supply system to a 24/7 network, especially because the water supply network was not scientifically laid," said Keshav Chandra, CEO of the Delhi Jal Board.
The affluent region in south Delhi was ideal because of multiple reasons according to Chandra, such as the network here could be isolated easily allowing easy calculations of the total water supplied to and consumed in the area, and it was easier to convince the educated residents to bypass their Underground Reservoir (UGR) to avoid secondary contamination.
Read more: Sanitary woes: Sewage in water, locals take to streets in east Delhi's Swasthya Vihar
The isolated pipelines also helped fix any leakages detected using the technology provided by Suez India, a subsidiary of the French company Suez Environnement. "Helium gas detection was used for for detecting leaks. This is high-end technology. Otherwise acoustic detection is used," he said.
This company had come under scrutiny, after reports surfaced alleging that Malviya Nagar was facing acute water shortage even two years after the implementation of the supply improvement scheme.
Mishra, however, said that though this is the same company as the one which was part of the initial PPP, this time greater involvement of the DJB would ensure better implementation.