Drought-hit Tamil Nadu farmers hold mock funeral in Delhi
Mar 27, 2017 10:14 AM IST
The protest by Tamil Nadu farmers' at Jantar Mantar entered its 14th day on Sunday. The farmers have been reeling under the influences of what has been reportedly called the worst drought faced by the state in 140 years and the cyclone Vardah that hit the state in December last year.
With the Tamil Nadu farmers' protest at Jantar Mantar entering its 14th day on Sunday, protesters embraced some innovative methods to draw the attention of policy makers. A farmer dressed up as a corpse, while the others, dressed in green loin cloth or green petticoats, mourned his "death" and blew conches.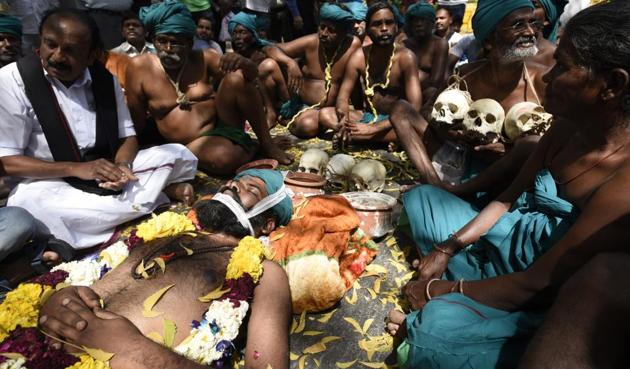 "The agricultural sector in India is dying a slow death, while people watch on. This is supposed to symbolise that," explained P Ayyakannu, the leader of the protesting farmers.
Stay tuned with breaking news on HT Channel on Facebook.
Join Now
"The plights of alive farmers have gone unnoticed so far. Maybe our dead bodies will be harder to ignore," added Prem Kumar, another farmer.
The farmers have been in the national capital for over two weeks, demanding that their loans from nationalised banks be forgiven, fair and just prices be set for their produce and to come up with realistic solutions to the water scarcity in the state.
The issue of drying up of the Tamil Nadu leg of the river Kaveri has also been raised, and the farmers have proposed the Smart Waterways Project, conceptualised by AC Kamaraj, as a viable solution.
Though the farmers have met seral politicians and members of the Tamil film fraternity, they are yet to receive any palpable relief. MDMK party general secretary Vaiyapuri Gopalsamy, also known as Vaiko, also visited the protest site on Sunday.
"We had met Arun Jaitley on Tuesday with regard to the forgiving of loans, and he had asked for two days time to consult with the RBI. However, we have not heard back from him since. Similarly we had met Uma Bharti too. She has only given us verbal reassurances about the issue of water shortage," said Ayyakannu.
The farmers claim that their loans from cooperative banks were written off, under Jayalalithaa's directives. However, loans from nationalised banks require the Central government's go-ahead.
The farmers have been reeling under the influences of what has been reportedly called the worst drought faced by the state in 140 years and the cyclone Vardah that hit the state in December last year.
Many have been crushed under the weight of mounting debt, with Ayyakannu claiming that over 400 farmers have committed suicide in the state in the last six months. According to the National Crime Records Bureau's latest numbers, 60 farmers have committed suicide in Tamil Nadu in 2015.
The farmers also allege that the drought relief packages offered by the Central government are much lower than the state government's estimates, and would not cover their losses.
"We have no work. We do not even have water to drink, because of the drought. We have not had good rains in years. They have cut off water from river Kaveri too. Our wells have dried up. I initially had a golden thaali (the equivalent of a mangalsutra); I had to mortgage it to buy food," said Sellamma, while showing a tiny golden pendant on a yarn string; her makeshift thaali. She has a loan of Rs4 lakh rupees pending.
Others like Nachamma also had to mortgage their jewellery to repay Rs3 loan which has climbed to Rs7 lakh over the years. "We had hoped that a farmer's 'death' would bring Prime Minister Narendra Modi out to meet us, but it is not to be so. He travels all around the world, but he has not found the time to meet the citizens of Tamil Nadu who have been protesting all this while. We do not care if we end up dying here, we will not leave unless our demands are met," she said.
The farmers have made headlines since coming to Delhi for their novel protest ideas. They carried skulls, which they claim are of other farmers who committed suicide due to drought, had worn loin cloths and even climbed the trees at Jantar Mantar, while threatening to commit suicide if their demands are not met. On Monday, the farmers are expected to protest wearing Mahatma Gandhi's face masks.