Join the club: Delhi's new friendship mantra
Tauseef Ahmad, 28, works with a multinational company and lives alone in west Delhi. A few months back, he fell ill and the doctor advised him bed rest.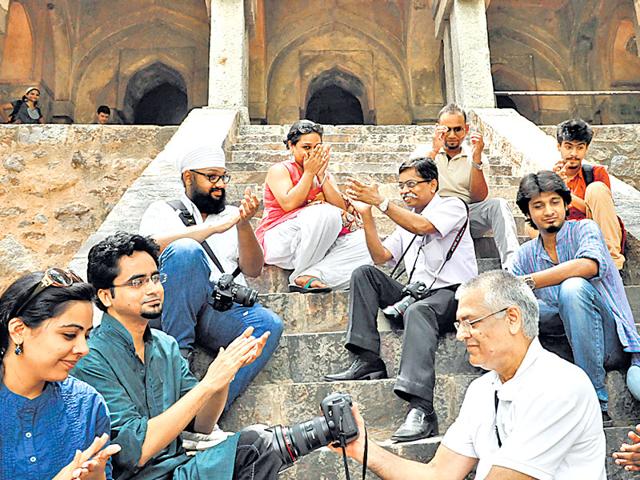 Updated on Jul 05, 2015 12:19 PM IST
Tauseef Ahmad, 28, works with a multinational company and lives alone in west Delhi. A few months back, he fell ill and the doctor advised him bed rest. Just when he was beginning to despair about his situation, Tauseef got a call from a friend and told him about his condition.
"In a couple of hours my friend came to my house with food and everything else I needed and they looked me after till I recovered," says Tauseef. The friend was someone he had met only a couple of years back at the Delhi Heritage Photography Club(DHPC), a hobby club that conducts photo walks at heritage sites in and around Delhi.
"Frankly, we are not a group of historians and professional photographers. While we do photography together and discuss heritage, 80% of the members are in the club for finding likeminded friends. All of us, who were complete strangers, have now developed a strong bond; there are many cases where we have helped each other financially. We spend about 5-6 hours together every weekend during various outings, including photo walks," says Vikramjit Singh Roopari, 31, founder of the club.
Roopari is not exaggerating. In metros, hobby groups, communities, clubs are flourishing like never before: there are book clubs, board games communities, running clubs, cycling clubs, laughter clubs, film clubs, beer clubs, aspiring writers' Meetup groups, etc. Then there are those who combine more than two seemingly disparate hobbies take for example a club that calls itself West Delhi Politics and Books Club. There are several womenonly clubs called 'WOW'. If one of them stands for Women on Wanderlust, the other stands for World of Women.
"A lot of people in metros like Delhi, which is dominated by a migrant population, suffer from a lack of identity and a sense of belonging. These communities help impart them both. These communities have become alternative platforms for social interaction. When there was a marriage at my neighbour's house a couple of years back, I was not invited and I felt bad. My neighbour obviously had no social obligation towards me and that can make anyone feel socially alienated," says Vishal Bagh, a Gurgaon-based IT professional, who is part of Jashn-e-Adab, a Delhi-based community that promotes poetry. "I have made many friends after I joined the community, who share same interest as me. But going to such clubs and communities can be tough if you are introvert and shy," says Bagh.
In fact, friendship is a recurring motif in the stated objectives of almost of all these groups and communities. This is how W.O.W (World of Women) describes itself on their Meetup page."This is where you can confide in each other, create beautiful friendships, and learn to be authentic and non-judgmental. We will be doing some simple ordinary activities like celebrations, day picnics, picnics, outstation tours, group lunches, movie watching, dancing and singing together…"
Mandakini Kwatra, who co-founded W.O.W (World of Women) says theirs is a group of 'independent working women' married, single, unmarried, separated in the age group of 25-40. Most of them, she says, are working with multinationals. "Ours is a platform to discover like-minded friends who want to live a balanced life through celebrations, creativity, and meditation," she says, adding, "It's not a kitty party platform. In fact, we organise introductory coffee sessions for new women who join the group. I set up an all-women group because not every woman is comfortable in a man's group. We are not at all judgmental about each other," she says.
Another Meetup group, The Happiness Project, describes itself thus: "This is a place for people to meet, people who may or may not have had unhappy experiences in life, people who are open to new experiences, people who are looking to cultivate new friendships, long lasting ones, maybe even find a life partner here...".
Amarpreet Singh, a member of the Sunday Run Club, says it is not possible to forge friendship in a hobby club unless one is not passionate about hobby. "Most of my family friends are from the run club. They are the ones I invite home for various celebrations such as my child's birthday," he says. "In metros, you may not have childhood friends with you and in office you have colleagues at competition. So these hobby clubs are good for pursuing your hobbies and making friends".
There are many who say that these hobby clubs and communities have helped them cope with troubled times in life. Priyanka Srivastav, 28 (name changed), who hails from Chandigarh, came to Delhi with her IT professional husband two years back. After six months, she left her husband's house and filed for divorce. With no family and friends in the city, she went into depression. "I have a well-paying job, so finances were not a problem. But the sense of being betrayed by someone I loved so much pushed me to the brink. The doctor I consulted said that more than anything I needed company, people with whom I could share my feelings and frustrations. I joined a hobby club where I made some very good friends who helped to put my past behind," says Srivastav, an avid traveler.
Delhi-based well-known psychiatrist Deepak Raheja says loneliness arising out of weak social ties is driving people to look for alternative ways of making social connections. And he blames weak social ties, especially in your immediate neighbourhood, on 'paranoia' which, he says, is the biggest trait of emerging societies.
Raheja says more than 30 percent of the cases he gets relate to people suffering from a sense of emptiness. These hobby groups and communities, he says, create a group consciousness, enhances self-esteem, reduces people's sense of isolation and gives them a sense of their place in the world.
"Isolation is one of the biggest fears of human beings. People these days are not comfortable with their neighbours and even with their extended families because they are almost paranoid about their intentions and they fear being judged. These hobby groups serve as a neutral background, which they join without any baggage. And so chances of acceptance and assimilation are very high," he says.

But RB Bhagat, professor in the department of migration and urban studies, International Institute for Population Sciences(IIPC), Mumbai, has a different take on the subject. "Those who are lonely form very minuscule part of urban India. It is true that people form network through various means, and such groups sometime take the form of identity. Senior citizens are one such group meeting in park, or in club or even in religious places. They are certainly the most lonely group in urban space, not the migrants," he says.
Close Story
Personalise your news feed. Follow trending topics