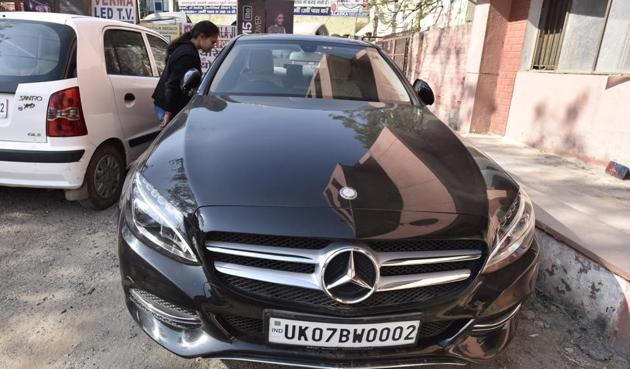 Delhi Mercedes murder accused changed looks, fled to Haridwar to avoid arrest
The prime suspect in the murder of 17-year-old Simran in a Mercedes on Tuesday night was arrested was caught outside a mall in Saket on Friday night.
Hindustan Times | By Karn Pratap Singh
, New Delhi
UPDATED ON DEC 25, 2016 01:22 AM IST
The prime suspect in the murder of 17-year-old Simran was on the move and tried to evade arrest by changing his looks after he shot her in a Mercedes outside her home in southwest Delhi's Najafgarh on Tuesday.
Shubham Gupta, a Class 12 dropout, told police that he suspected Simran had been two-timing him and this infuriated him to the point where he pulled out a gun and shot her.
Gupta fled to Haridwar where he got a haircut and shave to disguise himself and avoid arrest, police said. He was hiding in an animal feed godown in Delhi's Tughlaqabad Extension after returning to Delhi but came to a mall in Saket on Friday to make enquiries. Police arrested him there.
Police on Saturday also arrested Yogesh, owner of the Mercedes and the licenced pistol which Gupta allegedly used to pump a bullet in Simran's heart. Yogesh was arrested on charges of offering alcohol to Simran and Gupta, despite knowing that they were below the legal drinking age, which is 25 years, in Delhi.
Police also added section 77 of juvenile justice act in the case.
Gupta's mobile phone, which is currently with the police, has photographs and videos of the duo, some reportedly taken minutes before her death. Their photos and videos were later used by one of Gupta's friends to make a snapchat video.
Gupta is purportedly seen flaunting the weapon and enjoying the company of Simran and Yogesh in the video. The couple was seen embracing each other in the car. The video shows Gupta holding a bottle of whiskey in his hand and humming along.
During the interrogation, Gupta disclosed that after shooting Simran in the Mercedes outside her home in south Delhi's Najafgarh, he boarded an auto-rickshaw and reached Delhi Cantonment railway station. Gupta boarded a Haridwar-bound train and reached the next morning.
After reaching Haridwar, he saw the news about Simran's murder on a news channel at a local shop. Gupta had long hair and a beard in the photographs police released to nab him.
"Gupta panicked as his photo was also being shown in the news as the prime suspect. Fearing that the locals might identify him after seeing the news, he went to a barber's shop and got a haircut and shave," said a senior investigating officer.
Gupta read some articles in newspapers which said that Delhi Police teams were camping in Haryana and Uttarakhand to arrest him. He panicked and decided to return to Delhi. Gupta took a train and reached Delhi on Thursday evening.
"He claimed he was hiding in an animal feed godown in Delhi's Tughlaqabad Extension. We are verifying his claims and trying to identify the godown and its owner," said Surender Kumar, deputy commissioner of police (southwest).
Dependra Patahak, joint commissioner of police (southwestern range), said that Gupta owned up to the crime, saying he was angry when she failed to explain why she was receiving repeated calls from her friend, indentified as Nitin. "Gupta suspected Simran of two-timing him. He felt betrayed and jealous after knowing that she was already in a relationship with Nitin," said Pathak.
On Tuesday, Gupta and Simran went to a mall in Rajouri Garden for lunch with Yogesh. Nitin kept calling her repeatedly.
"He said Simran was receiving calls from her mother and Nitin throughout their journey to Najafgarh. That annoyed him. When he demanded to know the caller, Simran dodged the question at first and then told him that Nitin was a friend from her colony," an officer said.
As the Mercedes was approaching Simran's home, Nitin, blocked the road using his scooter. Yogesh came out of the vehicle and an argument broke out between Gupta and Nitin during which the duo verbally abused each other. When Simran tried to pacify them, Gupta abused her as well. This irked Simran and she abused him back.
Overcome by rage, Gupta pulled out a pistol that belonged to Yogesh and shot her.
Simran had met Gupta three months ago through Facebook.
Close