'My daughter found him wherever she went': Burari stalking victim's mother
Surendra Singh had reportedly been stalking Karuna for the past six months. After he found about her alleged affair with another man, he stabbed the woman 22 times on Tuesday.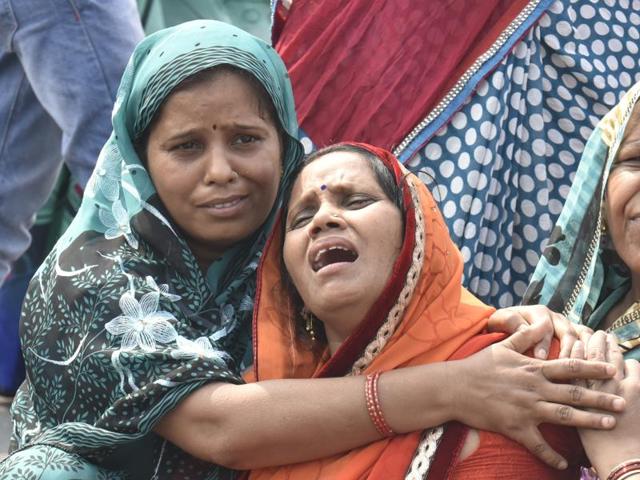 Updated on Sep 21, 2016 12:36 PM IST
Surender Singh (34) travelled seven kilometres from Jahangirpuri to Burari early every morning just to follow second-year BA student, Karuna (22), to school. He would wait for six hours outside the gate till she was done teaching to follow her back home.
Singh had reportedly been stalking her for the past six months. After he found about her alleged affair with another man, he stabbed the woman, a part-time teacher of Class Four at a private school, 22 times on Tuesday.
He would click photos, make videos and send her hand-written notes. He claimed to love her, but she had turned down his proposal.
"Wherever my daughter went, she found him there," said Karuna's mother, Rama.
"She changed her route to school, but he followed her there as well. She used to dread going out at night as she knew he would be waiting for her outside the house. He had all the information about my daughter's whereabouts."
"He threatened to tarnish her image by morphing and circulating her photos and threatened to kill her and both her brothers. One day, he cornered her and put a knife to her throat. We went to the police with a complaint, but Singh's father urged us to come to a compromise, assuring that his son would behave," she said.
Singh's father, a retired Delhi Police official, told HT he disowned his son six years ago. "I have nothing do with him. He has behavioural issues. We used to get a lot of complaints about him. I tried to put him on track but he never listened..."
He added, "Karuna's mother had come to our house, but she accepted that she used to entertain Singh by inviting him to her house for lunch. I had warned the family to stay away from him."
Read | Fatal obsession: Why people turn into stalkers and how to recognise the signs
Singh told police he was in a relationship with Karuna and that he was enraged when she cheated on him.
On Tuesday, Singh reportedly saw Karuna's WhatsApp chats with another man. She reportedly sent the man photos which made Singh angrier. He called Karuna to the GTB Nagar Metro station. The two met, hours before he killed her.
"He claimed he had given Karuna a SIM card. He took it back from her and put it in his phone to check who all she spoke to. He said he got mad when he saw her sending photos to another man. At the GTB Nagar Metro station, the two had an argument. Karuna reportedly threatened to report him to the police and left. Hours later, he intercepted and killed her," an investigator told HT.
Close Story
Personalise your news feed. Follow trending topics