'Tough' maths paper affected overall percentage, say teachers
Published on May 21, 2016 10:24 PM IST
In many schools, teachers admitted that marks in mathematics had affected the overall percentage of students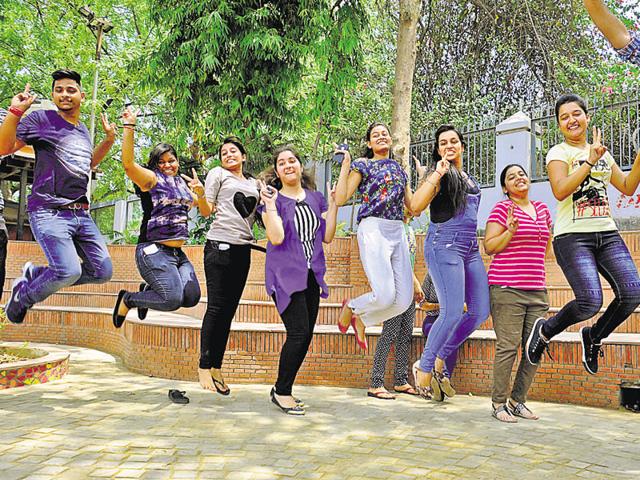 The Central Board of Senior Education (CBSE) mathematics paper this year had Class XII students in tears. Two months later, their miseries added up when the results were declared on Saturday.
In many schools, teachers admitted that marks in mathematics had affected the overall percentage of students. Commerce and science stream students have been hit the most. Even Sukriti Gupta, the all-India topper, missed the perfect score in mathematics by a mark.
According to CBSE statistics, hundreds of students score a perfect score in mathematics every year. Though the CBSE refused to share any data this year, teachers said the number of students scoring a 100 in mathematics had gone down.
"On an average, marks in mathematics have brought down the percentage of the students. It is mostly the commerce students who are bearing the brunt. This time in my school there is no one with a score of 100 in the subject," said Ashok Pandey, principal, Ahlcon International School. Four students from the school got a perfect score in mathematics last year.
The mathematics paper this year was lengthy and tricky, causing many students and parents to complain to the board. The board had constituted an expert committee to come up with remedial measures to look into the issue. The CBSE officials said students were marked leniently.
"As per the recommendation of the expert committee, marks allotted to questions were adjusted. Students were marked quite leniently," said a CBSE official.
Read: As it happened: CBSE Class 12 results 2016 declared
Students and parents, however, refused to believe that the CBSE had addressed the issue. "My two children have scored between 90 and 100 marks in most subjects, except mathematics. My daughter scored 76 marks and my son 84 due to which their overall percentage has plunged. The paper was not meant for commerce students, but for aspiring engineers," said Latika Panghal, whose children have cleared Class XII from Sanskriti School.
The marks in Mathematics affected the score of commerce stream students in different schools. Unlike last year, when the topper was from commerce, this year none of the four toppers in the country are from the stream.
"We really do not know how the CBSE has marked the papers. This year, students scoring above 90% in the subject are fewer. We all know mathematics is important for students wanting to take up BCom and economics in their graduation," said Jyoti Arora, principal, Mount Abu Public School.
In Delhi University, it is compulsory for students, wishing to study commerce, economics, computer science in graduation, to have studied mathematics. The university offers a bachelor's degree in management studies, business economics and financial and investment analysis.