Autonomy debates will dampen Kashmir interlocutor's efforts
The mandate given to Dineshwar Sharma by the Centre has raised fresh hopes that some progress can be made in Kashmir this time around. However, the recent political slugfest has lessened hopes on this count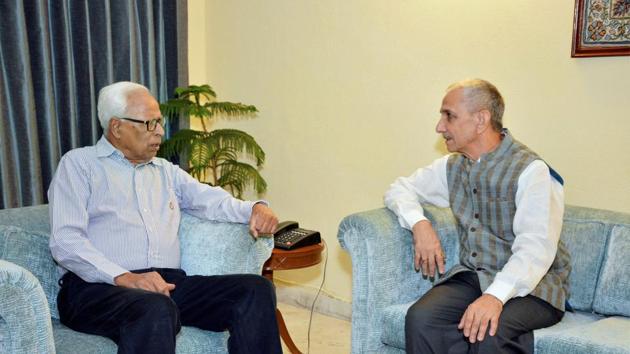 Published on Oct 30, 2017 08:12 PM IST
The government-appointed interlocutor for Kashmir, Dineshwar Sharma, has his work cut out.
The ink hadn't even dried on the order appointing him when a political skirmish broke out between the Congress and the Bharatiya Janata Party. The core issue is an old one – autonomy. The statement by a former Congress minister that many seeking azaadi or independence were actually seeking autonomy raised the hackles of the BJP which termed such utterances anti-national. Meanwhile, the National Conference, which hasn't held a so-called delegates' meeting in 15 years decided to do so and released a statement supporting more autonomy for Kashmir.
The National Conference and its rival in the valley, the People's Democratic Party (an ally of the BJP in the state) would like the issue of autonomy to be discussed. The BJP, though, has been consistent in its opposition to Article 370 of the Constitution that offers this autonomy to the state although it has stopped short of trying to amend this.
Still, the government's response, which seems to suggest its opposition to calls for more autonomy, does have the potential to hobble Mr Sharma's efforts. It would have perhaps done well to hold its counsel and watch Mr Sharma's progress in engaging with all stakeholders. And maybe the Congress leader could have avoided commenting on the issue at this critical point in time.
While it is true that no dialogue is possible in the backdrop of violence, such statements and counter-statements do have the potential to weaken the interlocutor's position. The atmosphere has so far been conducive to Mr Sharma's mission. Violence in the valley has reduced (relatively at least) and the Indian army has been very successful in thwarting terrorists. And the home minister has made it clear that Mr Sharma is free to engage with whoever he wanted to, indicating an openness to talk with hard-line separatist groups. The war of words over autonomy has struck a discordant note.
Issues related to national and internal security are non-negotiable, but other issues, especially those related to the daily lives of various sections of Kashmiri society are not. Mr Sharma isn't the first interlocutor appointed by a government keen on solving the Kashmir problem. The mandate given to Mr Sharma has raised fresh hopes that some progress can be made, despite the fact that reports of other interlocutors have remained largely unimplemented. Let's hope the recent political slugfest hasn't hurt them.
Close Story