BHU crackdown: Police hooliganism on campuses must stop
Updated on Sep 25, 2017 04:11 PM IST
The police's conduct in BHU is disgraceful. But such actions have now become par for the course in the country. Thanks to weak and politicised university administrations --- be it at Jawaharlal Nehru University, Jadavpur University, Hyderabad Central University, and now at BHU --- policemen now have a free hand to act against students who are perceived to have overstepped the limits set by the authorities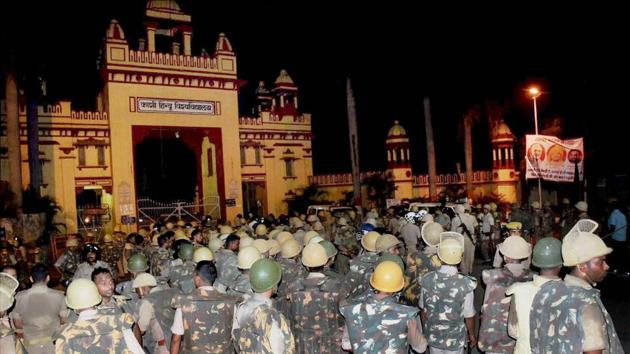 Earlier this year, Hindustan Times travelled to the Banaras Hindu University (BHU) campus to speak to girl students about their life there. The narrative that emerged was startling. "This is like life in Kashmir; isolated, alienated, and cut off from the mainstream," said Anvesha Mishra, a student at the Mahila Maha Vidyalaya, the women's college inside the campus. In the course of the conversation, she listed the "absurd" and "discriminatory restrictions" in the five girls' hostels in BHU: No late nights, 'decent' clothing and no non-veg food, among others. "There's no space for us to demand our rights, or express our opinion. We are simply required to read textbooks, and maybe, even act like robots," Ms Mishra added.
This comment was prescient. Last week, protests broke out in the university after a student was allegedly molested. Instead of handling the issue with the empathy and restraint expected from a head of an academic institution, the vice-chancellor called in the police, which started forcibly removing students from outside the V-C's residence and a campus gate. This clash injured several students. The police's conduct at BHU is disgraceful. But such actions against students have now become par for the course. Thanks to weak and politicised university administrations — be it at Jawaharlal Nehru University, Jadavpur University, Hyderabad Central University, and now at BHU — policemen now seem to have a free hand to act violently against protesting students. The police also lack training when it comes to handling women protesters or cases of violence against women. In BHU, in complete contravention of the law, male policemen were sent to tackle women protesters.
The Uttar Pradesh government on Monday transferred three additional city magistrates and two policemen after the BHU mishandling. But this is just not enough. Police hooliganism has to stop. But it will not happen unless political interference stops.