After Daulat Ram College protests, students list 'uncool things' at DU
Updated on Aug 11, 2016 01:47 PM IST
Here is a list of some problems that students say are the "uncool things" about the Delhi university.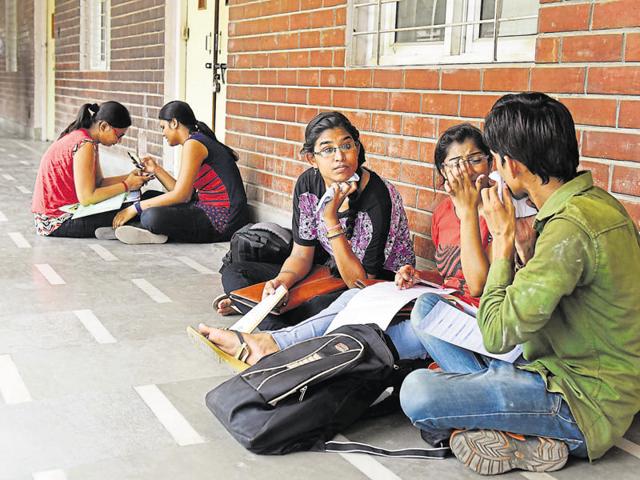 Hindustan Times, New Delhi |
Shradha Chettri and Heena Kausar
Students of Delhi University's Daulat Ram College (DRC) came out on the streets on Monday to protest against the poor infrastructure and facilities and asked authorities to take immediate action.
They called for more washrooms, basic sanitation facilities, infrastructure revamp and a roll-back in fee hike.
DRC is not the only college that faces such problems and there are issues that are common to all the 63 colleges under the university.
Here is a list of some other problems that students say are the "uncool things" about the university.
Lack of toilets
When DRC students came out on the street, lack of toilets was one of the major issues that they raised. There are just four toilets in the college for 4,000 students.
This complaint is not unique to DRC but the entire university.
"One should go to the Central Library toilets, they will be stinking no matter what time of the day we visit. Even at the Arts Faculty building it is the same," a masters student, who did not want to be named, said.
Students say that most of the time they have to rush to Kamala Nagar to use the washrooms at the cafes in the market.
Hostel facilities
Students, who get a seat at Delhi University, regularly complain about the lack of hostels. Only 14 colleges under the university provide hostels to their students.
Students are allotted hostel rooms on the basis of merit.
To top it all, colleges that offer hostels can accommodate only a handful of students. At Lady Shri Ram College (LSR) for Women, there is room for just 300 students. And, the two hostels at Sri Venkateswara College can take only 50 students.
The huge demand for hostels can be gauged from the large number of applications received by colleges. For instance, Hindu College that can accommodate only 150 boys received close to 400 applications for rooms this year.
So, fewer hostel means that students have to pay exorbitant rents for the paying guests around the area. In Kamala Nagar in north campus the rents are as high as Rs10,000 for a room that is shared by three students.
Read more: Bar council comes down on DU's evening law classes, poor facilities
24x7 libraries
The Central Library as well libraries inside DU colleges shut by 7pm. Undergraduate and post-graduate students say that they should be able to access these libraries throughout the day.
"For Delhi School of Economics (DSE), the library is closed by 7pm. It is only one month before the exam that they keep it open till 8pm," Shinjini Ghosh, a sociology student, said.
Many say as they live in paying guest, where they have to share rooms, libraries are a better place to sit and study.
Lack of public transport for South Campus
With no Metro connectivity to colleges in the south and outer campuses, students have a harrowing time commuting. There are no special university buses to ferry the students and students are at the mercy of the autorickshaw drivers who generally overcharge.
"In the evening, it gets very difficult to reach the Metro. Auto drivers either refuse or they overcharge. Sometimes even finding a conveyance is also difficult," Aryabhatta College's Sohini Singh said.
One of the parents, who lives in north campus, said that it takes her daughter almost two hours to reach Bhim Rao Ambedkar College located on the other side of Yamuna.
"There is no Metro connectivity and by bus, there is always a lot of traffic on the Wazirabad bridge," Kamala, a non-teaching staff at DU, said.
This also raises safety concern for women students especially in colleges located in the outer part of the city.
Placement
Except renowned colleges like Shri Ram College of Commerce (SRCC), St Stephen's College and LSR, placements in other DU colleges are not very impressive. Students say that the college placement cells are not very active so very few companies visit them.
There is some scope for commerce students, but humanities and science students get less opportunity.
"The colleges generally assume that students will go for higher studies so generally placements are not given much attention. Most colleges are linked with the central placement cell so students have to go to North Campus," Ranjit Singh, a student of Ram Lal Anand College, said.
Personalise your news feed. Follow trending topics