Civil services topper Tina wants to fight 'social problems' in Haryana
The Delhi woman, who made the city proud after passing the exams with flying colours, is an alumnus of Lady Shri Ram College for Women under the Delhi University. Last year, Ira Singhal of Delhi had topped the exams. She was also a student of the Delhi University.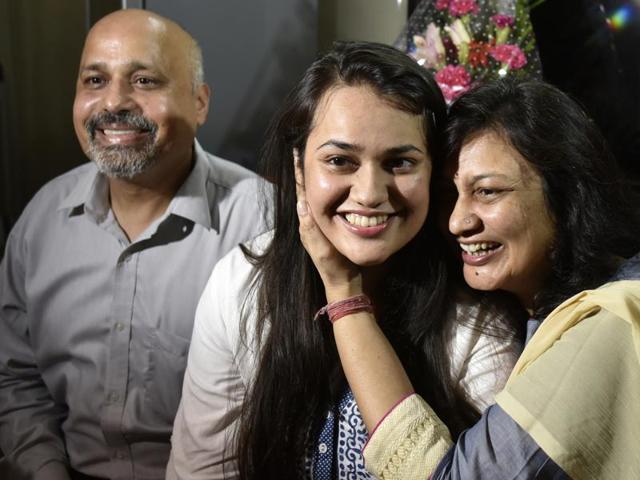 Updated on May 11, 2016 04:11 PM IST
"There is no alternative (shortened as TINA)," said a slogan used by former British prime minister Margaret Thatcher. And that is how 22-year-old Tina Dabi, the topper of the 2015 civil services examinations, wants to define herself.
The Delhi resident is an alumna of Lady Shri Ram College for Women under the Delhi University. Last year, Ira Singhal of the same university had topped the exams.
"This is a dream and I am still trying to internalise it," Tina told HT, sitting with her family members in the living room of a government accommodation in central Delhi. The room boasted of Tina's achievements as a student.
Read: Delhi's Tina Dabi first in civil services exams | List of other toppers
After Tuesday's feat, Tina has decided to join the Haryana cadre and work towards gender equality in the state with a skewed sex ratio and plagued by allegations of gender discrimination.
"I was born and brought up in Bhopal, MP...I have been staying in Delhi for the last 10 years. I wanted to explore a new place and my parents wanted me to stay close to them...so I chose Haryana. I feel that place also has a lot of challenges and social problems...," said Tina, whose family is originally from Rajasthan's Jaipur.
She said the preparation period was at times difficult and frustrating.
"That is the time when parents' support counts the most, and I got it all. What I am now is all because of the sacrifices my family members have made," she said.
Read: Dhanbad boy secures ninth rank in UPSC exams
Her younger sister, Ria, who has appeared for Class 12 examinations, also wants to be a bureaucrat.
Tina's parents are confident that their "pride" will cruise ahead in life.
"...in Class 12, she scored 97% in humanities. Everyone said we should make her study science, but we let Tina do what she wanted. Parents should not pressurise their children to get into IITs...," said Hemali Dabi, her mother.
Jaswant Dabi, the father, said: "She has always been an obedient child and the happiness she has given us today is beyond description. I had expected she will be in the merit list, but never expected her to be the topper."
A good debater who has a penchant for Madhubani painting, Tina studied political science and graduated in 2014. First in the family of engineers to join civil services, she spent eight hours a day with books since school and read at least three newspapers.

"She was a very bright girl. But why I remember her so well is (because) she had volunteered to teach those weak students English as a part of the mentorship programme," said Krishna Menon, political science teacher at Lady Shri Ram College.

Read: Meet J-K's Athar Aamir, second rank holder in IAS exams
Close Story