ICSE and ISC 2017 results: Girls do better than boys, pass percentage almost same as 2016
Hindustan Times, Noida/Lucknow |
Rajeev Mullick/Vaibhav Jha
Jun 01, 2017 04:19 PM IST
Girls performed better than boys in the ICSE (Class 10) and ISC (Class 12) board exams 2017, results of which were declared by CISCE on Monday.
Girls performed better than boys in the ICSE (Class 10) and ISC (Class 12) board exams 2017, results of which were declared by the Council for the Indian School Certificate Examinations (CISCE) on Monday.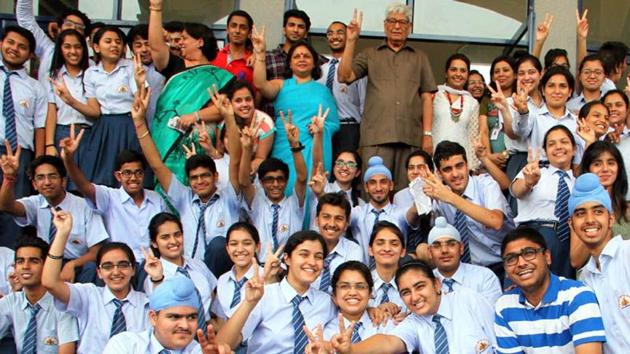 Nearly 2,40,660 candidates – 1,68,591 for ICSE and 72,096 for ISC – appeared in the exams this year.
The pass percentage of candidates who appeared in the ICSE exam was 98.53 and that of the ISC students was 96.47%. Last year, 98.50% students cleared the ICSE exam and 96.46% candidates passed the ISC.
Girls did better than boys in both forms of the exams in terms of pass percentage. In ICSE, 99.03% girls passed and 98.13% boys cleared the exam. Similarly, in ISC girls outperformed boys with a pass percentage of 97.73 as compared to the 95.39% boys who cleared the exam.
The ICSE exam was written by 96,770 boys and 78,529 girls and – out of which 94,957 boys and 77,765 girls passed the exam respectively. In the ISC exam, 39,703 boys and 33,930 girls appeared and out of which 37,872 boys and 33,161 girls passed the exam respectively.
Region wise, south dominated in both forms of the exams. In ICSE, the southern region applicants achieved a pass percentage of 99.64 and in ISC, the region achieved 98.97.
Toppers
Muskan Abdulla Pathan from Hutchings High School, Pune and Ashwin Rao from St Paul's English School, Bengaluru were declared as joint toppers of ICSE (10th) exam with 99.4%.
Ananya Maity of The Heritage School, Kolkata was the topper of ISC (12th) boards with 99.50% marks.
"I'm delighted. I cannot tell you how happy I am. She is a wonderful child. She's not only brilliant in academics but also in creative writing. What's more, she's down to earth and well behaved," Seema Sapru, principal of the Heritage School, said.
"She has an inclination for creative writing. She also loves to play the piano. Needless to say, she devoted a number of hours in studies," Ananya's father Chinmoy Kumar Maity, who is a doctor, told HT.
The second rank in ISC was shared by 4 students, including Ayushi Srivastava of CMS Gomti Nagar in Lucknow, Devesh Lakhotia of Kolkata's St Xavier's Collegiate School, Rishika Dhariwal of Mumbai's Jamnabai Narsee School, and Keerthana Srikanth of Scotish High International School in Gurgaon. All of them obtained 99.25%.
The third rank was shared by 5 students with 99% marks.
Delayed results
The results for the ICSE and ISC exams were delayed this year as they began at least a week later than usual because of the assembly elections that were held in five states.
Last year, the results were declared on May 6, 2 weeks earlier than usual due to the introduction of a new technique known as the Live Ink Character Recognition (LICR).
And in 2015, they were declared on May 18.
At least 8 papers clashed with election dates and were rescheduled. While the ISC exams were advanced by a week (January 30-April 26), the ICSE exams were delayed by 10 days (March 10-April 21).
As per the earlier schedule, the ISC and the ICSE exams were supposed to begin on February 6 and February 27 respectively.
The Central Board of Secondary Education declared the Class 12 board examination 2017 on Sunday. The CBSE 10th result 2017 is likely to be announced soon.