Is your foreign degree valid in India?
Published on Feb 03, 2016 03:45 PM IST
Be careful while selecting degree courses abroad which are of shorter duration than the ones in India or are in distance learning mode.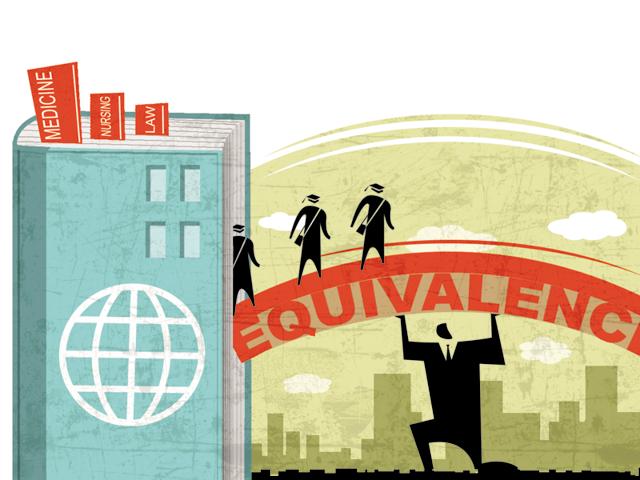 Do you do your due diligence before selecting a programme or institution abroad for higher studies, especially in the UK, Australia, West Europe, China or Russia? If not, then you must start the process now to check if your qualification or course would be given the equivalence (considered at par with a course) in India for higher studies, professional practice and jobs.
Though the Association of Indian Universities (AIU), which grants equivalence to these courses, had relaxed certain norms on recognition of certain foreign university qualifications a few months ago, some courses are still not treated with parity in India.
For instance, students getting degrees from foreign universities for programmes of a shorter duration than similar programmes in India will find it easier to get equivalence and recognition in India. However, degrees for medicine and law get equivalence only from professional bodies.
Read more: Who's checking that foreign degree?
Till mid-2015, programmes in foreign institutions were required to be completed in full-time regular mode as those of Indian universities as per AIU rules. Just like in India, the duration of bachelor's programmes in the foreign university had to be of three years and master's courses of two years.
A number of foreign universities allow students to complete their postgraduate degree quickly (compared to Indian institutes) as acceptance of credits and credit transfer is common in a number of foreign and Indian universities. These courses were not given equivalence in India, but the AIU later changed its policy to accommodate programmes shortened on account of credits accepted by foreign universities.
"While AIU does not relax the requirements for the minimum duration of degrees, the duration instead is measured in terms of precise number of months/years and completion of the number of semesters/trimesters. Professional degrees awarded by foreign universities which also entitle the student to practice a profession in India in disciplines such as medicine, nursing, pharmacy, law and architecture are given equivalence by the respective professional councils," says an AIU official.
Initially, equivalence was accorded by the AIU on a course to course basis only after the proposal for equivalence of foreign qualification was received from an Indian mission abroad or from the university concerned, adds the official.
Other problem areas that need to be addressed are vocational degrees and non-degree qualifications such as proficiency, certificate or diploma-level examination conducted either by universities or by non-university level bodies which are not given ­equivalence.
Two-year (fast track) degrees awarded by foreign accredited universities are also not recognised. Degrees granted for courses pursued on offshore campuses of foreign universities are only valid in India if the offshore campus is duly approved by the competent authorities in that country. Foreign degrees awarded to students through pathway or diploma-level institutions are not given recognition as well by the AIU. Open distance learning, online degrees and those in the virtual mode from foreign institutions are also not treated equally.
Personalise your news feed. Follow trending topics