Less regulation, not removal of minority status, will improve Indian universities
IndiaSpend |
Aparna Kalra
Aug 28, 2017 04:27 PM IST
Minority-status institutions are allowed to set aside half their seats for a particular community, such as Muslim or Sikh, and not reserve any seats for Dalits.
Cancelling minority status of two universities will do little to help regulate institutions or improve the quality of higher education in India, when the problem lies with the regulatory system–consisting of at least eight central-level bodies, some of which are inefficient while others have been investigated for corruption.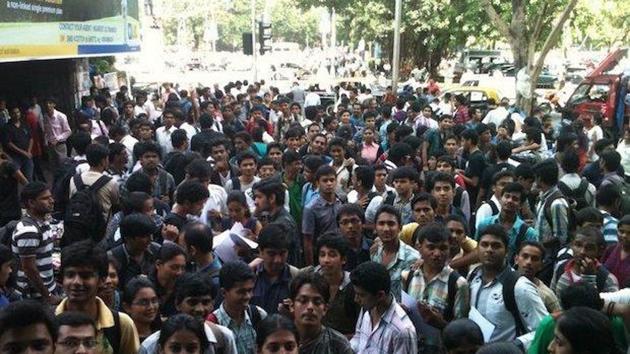 The Union government is opposing the minority status of two universities funded by the taxpayer: It indicated it will soon withdraw its support for Jamia Millia Islamia's minority status (the case is ongoing in the Delhi High Court), as it did for Aligarh Muslim University (AMU) in the Supreme Court in July 2016, arguing that these universities were established by Acts of Parliament and not by Muslims.
The government has chosen to cancel the minority status of these two universities, even though these are not the only ones that have minority status. The government's stance on Jamia and AMU, instead of underscoring ideology, should have opened up the debate on the larger regulatory mess in higher education, Pratap Bhanu Mehta, vice chancellor of Haryana-based Ashoka University, wrote in the Indian Express on August 8, 2017.
Mehta further argued that a minority college such as St Stephen's has an autonomy over admissions that a college such as Shri Ram College of Commerce lacks, despite both colleges being part of Delhi University. "It does create situations where institutions that are identical in purpose face differential regulation merely on account of who started it," he wrote.
Minority-status institutions are allowed to set aside half their seats for a particular community, such as Muslim or Sikh, and not reserve any seats for Dalits. A minority institute can also decide who will be part of their governing council, but so can most other universities. Minority-status institutions also follow regulations binding on other publicly-funded universities, such as rules on teacher employment and salaries.
For instance, minority institutions "can't say that for vice-chancellor we will have other qualifications (different from other institutions)", said Irfan Habib, historian and professor emeritus at AMU.
These rules were formed as part of the St Stephen's College judgement, which upheld the Christian-minority college's right to function as a minority institution even though it is part of Delhi University. The ruling said the college will be subject to regulation.
Even after the cancellation of minority status of two universities, the University Grants Commission (UGC) would still preside over universities and colleges that fall into several categories: Private universities, those funded by the union government, those funded by state governments, and those deemed-to-be universities (which are institutions considered to hold the highest standards in a field, and labelled as "universities" by the central government. These can include private universities).
At least 8 central-level regulators, several other state-level regulators
The main problem in Indian higher education lies in its over-regulation, and easing regulations could open up university education to many more in a country where about a quarter of people between the ages of 18 and 23 years were enrolled in higher education institutions in 2015-16, according to government data.
There are more than eight regulators. There are also higher education commissions and regulators at the state level, said C Raj Kumar, vice-chancellor of privately-owned O P Jindal Global University, who has campaigned for less-intrusive regulation and for public universities. He said the number of regulators could be about 20.
At least half of those enrolled in higher education in India are enrolled in private higher education, according to O P Jindal University's research.
The eight higher education regulators have different structures and report to different ministries. Some are statutory bodies created by acts of Parliament. They give permission for new courses and colleges, additional seats in existing colleges, disburse public money, and exercise quality control.
Source: University Grants Commission, All India Council for Technical Education, Council of Architecture, Medical Council of India, Dental Council of India, Bar Council of India, Indian Nursing Council, National Council for Teacher Education
Several have corruption charges against them. The All India Council for Technical Education (AICTE), which regulates engineering colleges, has a reputation of unleashing inspectors on colleges, and forcing people to pay bribes.
The Supreme Court last year criticised the Medical Council of India (MCI), which regulates medical schools, after a parliamentary committee report said the regulator had failed to "produce a competent, basic doctor"; failed to create a transparent system of giving new permissions, maintain uniform regulations for all institutes, and had devalued merit in admissions to medical colleges. The media has widely reported the corrupt practices of the MCI, and there are court cases against its former director, Ketan Desai.
As a first step in reforming the regulator, the term of a court-appointed MCI-oversight committee was extended for another year in July 2017, after appointing a new panel of doctors.
Further, higher education regulation in India lacks vision and is devoid of a two-way dialogue, according to this November 2016 article published on the website Scroll.in.
Successive governments, not just the current Bharatiya Janata Party (BJP)-led one, have undermined institutions by pushing changes even when stakeholders were against such changes. For instance, the Congress party-led United Progressive Alliance II pushed through the semester system, and a four-year undergraduate programme at Delhi University despite teachers bitterly opposing both moves.
More freedom to universities could help higher education
Course correction would be in the form of a regulatory body that has a vision for higher education, monitors quality, but allows universities to operate freely, instead of telling them how to celebrate birthdays of national personalities or observe Yoga Day, said experts from various universities.
In an environment of bad or corrupt regulation, universities want freedom, not uniformity or more regulation.
The BJP-led government has played around with several proposals, including that of corporatising autonomous universities such as Jawaharlal Nehru University, the Film and Television Institute of India and Jamia Millia, and to replace several regulatory bodies with one. But on August 10, 2017, the government denied in Parliament that it planned to merge the UGC and AICTE to create a single regulator.
The government has proposed the Indian Institute of Management (IIM) Bill, which provides greater autonomy by giving IIMs the right to select their directors, and allowing them to grant degrees to students as opposed to the current post graduate diplomas. The bill was passed by the Lok Sabha in July 2017 but is yet to pass in the Rajya Sabha, or upper House of the Parliament.
"The IIM Bill gives me hope. It is a unique bill where the government is letting go of its power," said Kumar.
The other step to reduce regulation is the government's intention to select 10 public and 10 private universities and make them autonomous. Rules for selecting these institutes, and the freedom they will get, have not been made public, though the minister for Human Resource Development, Prakash Javadekar, has referred to the rules being out soon a number of times.
"20 universities have been invited to decide their own fate, the government will not interfere. In fact, we will put up a corpus of Rs 1,000 crore to help them," Prime Minister Narendra Modi said during his Independence Day address to the country.
This, said vice chancellor Kumar of O P Jindal Global University, may be the first step to evolving a vision in the university space.
"The government will empower 10 public and 10 private institutions to do something different, to create a new vision. This is going on in the minds of the regulators at the highest level, in the Niti Aayog and others. Only time will tell how it is implemented," he said.
(Kalra is a Delhi School of Economics alumnus and freelance journalist who writes on education, impact of government policy, and, of late, politics.)
(Published in arrangement with IndiaSpend)
(Indiaspend.org is a data-driven, public-interest journalism non-profit/FactChecker.in is fact-checking initiative, scrutinising for veracity and context statements made by individuals and organisations in public life.)