States push for attendance to be given weightage in schools
Rajasthan has specifically suggested that instead of teaching the entire syllabus to students who do not perform at age-appropriate levels, only specific core competencies should be developed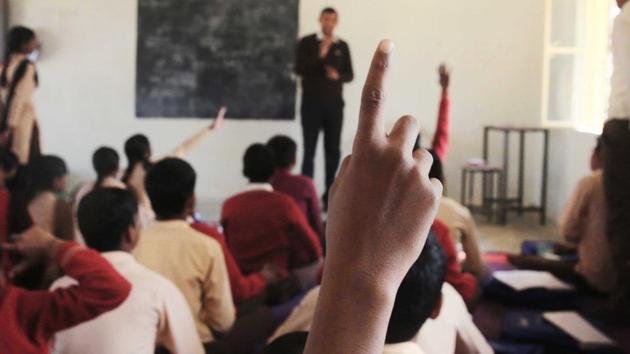 Updated on Aug 22, 2018 11:22 PM IST
Hindustan Times, New Delhi | By Neelam Pandey
Regular attendance in class should be given due weightage in students' assessments, many states have suggested as feedback on the proposed policy guidelines on Continuous Comprehensive Evaluation (CCE) drawn up by the National Council for Educational Research and Training (NCERT).
Rajasthan has specifically suggested that instead of teaching the entire syllabus to students who do not perform at age-appropriate levels, only specific core competencies should be developed. It has also suggested fixing accountability for school teachers. More than 22 states and Union Territories (UT) have shared their feedback. A national conclave will be held on August 29-30 to finalise the policy document.
A senior NCERT official said, "Almost all these states/UTs have expressed overall consent with some concerns related to the implementation, such as bringing an attitudinal change among teachers. They also endorse the NCERT view that teachers and headmasters need to be given greater autonomy as CCE is a school-based system of evaluation." Tamil Nadu suggested that "teachers and head masters need to be given greater autonomy". Jammu and Kashmir agreed with Rajasthan that fixing accountability of school teachers would make them more responsible.
The Right to Education Act requires that CCE be implemented for children till the completion of elementary schooling — from classes 1 to 8. Earlier, the Central Board of Secondary Education was the implementing body for CCE.
"We have prepared the guidelines on CCE and the document has been shared with all states and UTs for comment. We have received feedback and suggestions from many. In some cases, there is some confusion as they have not been able to unlearn the misconstrued CCE in practice for the past few years. These need to be discussed at length at the national conclave next week," the senior NCERT official said.
The guidelines were drawn up keeping three major approaches in mind: 'Assessment for Learning', 'Assessment as Learning' and 'Assessment of Learning'. The process also involves getting students to evaluate themselves as well as their peers.
Chhattisgarh has said that teachers may find it difficult to write descriptive feedback of children's learning and developmental progress, as suggested in the guidelines. Andaman and Nicobar Islands expressed apprehension about making anecdotal recordings in a teacher's diary or logbook.
The Delhi government has appreciated the revised CCE document but suggested that teachers need to be given extensive training. It has also said that more sensitisation is required. "One of the major issues that all states have raised is on training teachers to implement CCE well," an official said.
The guidelines have proposed that the progress report (or report card) of students between classes 1 and 8 should not carry comments such as "slow", "poor" or "dull" or display any score or grade. Teachers and parents should also not "label" students on the basis of performance or compare grades.
Topics
Close Story