Straight from the heart to the kitchen: Know chef Geetanjali Verma
One of the few successful and talented women chefs in the Indian hospitality industry, Geetanjali Verma has come a long way from baking her first cake as a 12-year-old to whipping up culinary wonders for a leading hospitality brand.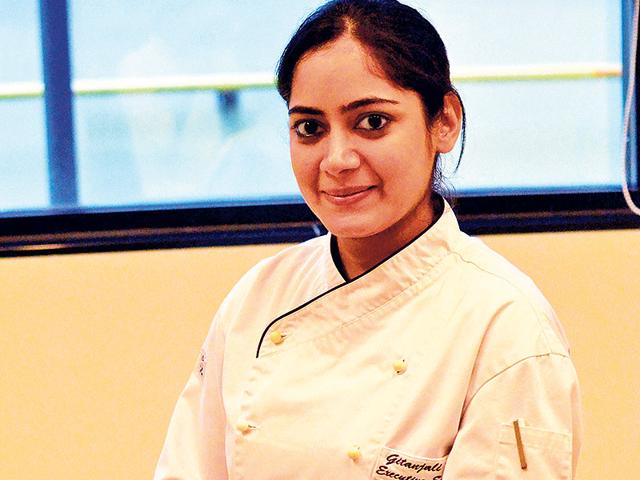 Updated on May 29, 2015 07:03 PM IST
American chef Anthony Bourdain's travelogues as a chef proved very inspiring and insightful for young Geetanjali Verma currently the executive sous chef at the Oberoi Flight Services. "Bourdain once wrote that good food is very often, even most often, simple food. This has served as words of wisdom for me in my profession," she says. Verma is one of the few successful and talented women chefs in the Indian hospitality industry who opted for the unconventional route by working in the kitchen. She is responsible for overlooking operations of the state-of-the-art facility of the Delicatessen Kitchen, which caters to the complete chain of The Oberoi Group and associate hotels producing international quality luncheon and breakfast meats.
Verma says that there is no end to learning and training in this profession. "However, to put it in years, I had undergone five years of intensive training with a good mix of academic and practical on-the-job experience. As a child, the kitchen always fascinated me and I used to spend lot of time with my mother and try out new dishes. I baked my first cake when I was 12 years old. When the time came to pursue a career, I had it clear in my mind that cooking is something which gives me happiness and should be taken up seriously. My training at The Oberoi Centre of Learning and Development further enhanced my skills and expanded my horizons in this profession. Running the Delicatessen Kitchen for the last six years with my team has been the biggest accomplishment. It is inspiring to try new products for sampling and its subsequent inclusion in the range of products delivered to our hotels. I have learnt that being self-motivated pushes you to achieve goals and help one to be more organised, with good time management skills. I believe that when you set your heart on being the best, you should not leave even the slightest chance for someone to beat you to it," she says.
Verma believes that being a chef is a rewarding career, especially when you see guests enjoying and appreciating the dishes you create. Good cooks have to be passionate and willing to evolve with the current trends. "The work requires constant involvement with the team which has taught me a lot about human behaviour and interactions. In an industry which is developing at such a fast pace, it is vital to have a good understanding with the team in order to deliver exceptional products," she says.
Though her family has been supportive of her career choice, they were anxious initially of letting their daughter venture out in an industry that requires a lot of stamina and physical hard work.
"After a big day at work, it is very important to unwind. I feel motivated when I am able to give equal importance to my family and myself and stay upbeat. It is my family which motivates and inspires me to have that energy. It feels good to lead a team be it of men or women. Being in a profession predominated by men; it surely requires lot of hard work and dedication to prove your calibre. However, I have been fortunate to work with excellent professionals who have always encouraged me and helped me reach where I am today," says Verma.
Describing a typical day at work, she says, "Handling the Delicatessen Kitchen is different from an Ala Carte kitchen. Apart from being the chef, I need to oversee the complete functioning of the department. The day starts with a walk into the storage chillers holding stocks of product selections from our menu, consolidating the daily requirements and then further facilitating the production planning. Apart from this, other activities like briefings conducted on the shop floor with the team to keep them abreast of the assignments of the day also acts as a platform for training and development. I also coordinate with chefs and purchase managers across all our hotels to understand their requirements and feedback."
Verma believes that professionally, the art of charcuterie isn't taught by many catering colleges in India. Her employer, however, invests a lot in the learning of its employees so that they can acquire the necessary skills in ­specialised areas like these. That's also the reason why Verma got the ­opportunity to go to Germany where she learnt techniques from skilled ­artisans in this field.
She recalls her journey as ­interesting and a great learning ­experience. "It began as a dream when I visited The Oberoi, Mumbai, with my father when I was eight years old. It's a dream come true to work with a leading hospitality brand and rise up to the position that I am currently holding. My training groomed me completely and helped me gain the skills required for the position. Any uphill journey is always filled with challenges, learning and achieving the best out of the experience. My journey has been the same, which also allowed me to develop as an individual and as a more emphatic person," she concludes.
Allabout
Gitanjali Verma
Profession: Executive sous chef
Day begins at: 9am
Day ends at: 7pm
Working hours: 9 to 10 hours
Social responsibilities: Spreading awareness through water and energy conversation drives
Family: My stress buster
Vacations: I like to go for a long ­holiday once a year
When not at work: I enjoy ­spending time with my family and friends and love cooking for them
Getting to know you
Chef Geetanjali Verma joined the Oberoi Centre of Learning and Development after her graduation, which helped her hone her knowledge and skills in the hospitality industry. "It feels good to lead a team, be it of men or women. Being in a profession predominated by men; it surely requires a lot of hard work and dedication to prove your calibre," says Verma. She feels she is fortunate to work with seasoned professionals and gain rich experience in the process. After a big day at work, it is very important to unwind. "I feel motivated when I am able to give equal importance to my family and myself," she adds.
Event management
An eventful career
Event management involves organising a focussed event for a target audience, corporate house or a non-government organisation. Events can include fashion shows, musical concerts, corporate seminars, press conferences, exhibitions, wedding celebrations, theme parties and product launches.
This career does not require much investment but offers a huge canvas for creative expression. A large event management company employs around a hundred people, while a medium-sized firm usually has 30 to 50 people.
Employees are hired for production/operation, client servicing and business development and the creative team. Event managers have to conceptualise an occasion, keeping in mind the objectives of the client, plan the event, coordinate with different agencies to organise it, seek permission from government authorities, visualise the stage design and arrange for performers and media promoters for the event.
Tour operations
Holiday homework
The Indian travel industry is leading worldwide growth and travel agents have to cater to travellers who want the best deals and latest information at their fingertips. A tour operator's duties include making travel arrangements and organising accommodation, sightseeing trips, etc. They organise and arrange package holidays, which are either sold through travel agencies or marketed direct to the public. They need to have the right experience, knowledge and dedication to act as a professional tour planners to create memorable holidays for their customers. Everything from the right sales attitude to knowledge of back-end processes is a must for aspirants who want to make a career in this field.
Hotel management
At your service
India continues to be a key hospitality market and has an absolute year-over-year tourism growth, which is greater than countries such as France, for example. Some great brands and well-known hoteliers have roots in India and the country continues to be successful by improving not only the quantity but the quality of international tourism through campaigns such as Incredible India, which was launched several years ago. This success has also contributed to increased foreign investments by international hotel chains in the country.
A career in the hospitality sector is hot and happening. The job is not just about ensuring a comfortable stay for guests who have just checked into a hotel, it's also about paying attention to their wants and needs. Most of the top hotels have a pool of professionals who look after everything from managing housekeepers to checking menus to ensuring everything is shipshape at the reception. Hotel management trainees can be hired by spas, cruise liners, too.
Close Story
Personalise your news feed. Follow trending topics