Under the influence: As drug abuse grows, colleges are cracking down
Sep 14, 2016 01:06 PM IST
Campuses are responding with counselling programmes, documentaries, faculty patrols.
It started out as a game of truth or dare for Prithesh (name changed on request), 17, a commerce student at a south Mumbai college last year. "I snorted meow meow (4-methyl methcathinone), I recall it was midnight by then. I suffered fatigue and could not leave my bed for two days, and stayed hungover for the next whole week," he says. "My friends suggested that I snort some more to reduce the after-effects, which turned into a habit for six months."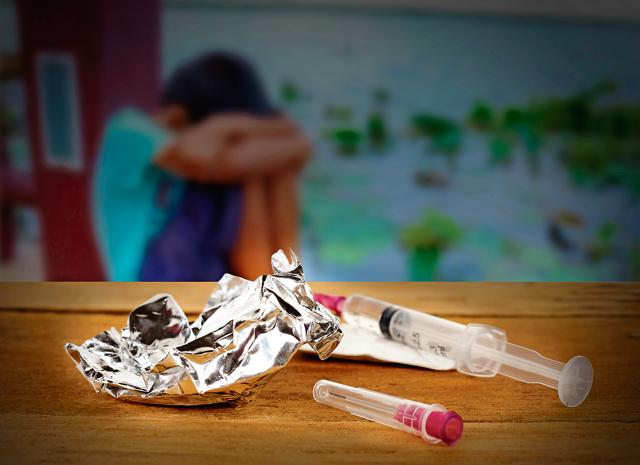 His attendance at college dropped; he failed that semester.
Read: Mumbai university students still await re-evaluated answer papers
"It was a ride. I didn't know where I was going, until my parents found out about the addiction," he says. "I would feel uneasy, and then collapse in craving if I didn't take the drug."
Prithesh is currently undergoing counselling. He finished a de-addiction programme last month, and resumed college. "I learned the hard way that it's totally uncool to do drugs."
About 70% of addicts at the Drug Abuse Information Rehabilitation and Research Centre (DAIRRC) in Fort are between 18 and 26 years old, says Dr Yusuf Merchant, president at the centre. "Most of them are college students, from degree, engineering and management institutes," he says. "Often, these colleges are unaware of the intensity of drug abuse on campus."
The Ministry of Human Resource Development (MHRD), published a new set of regulations last month to prevent drug abuse on campus. "It is important to sensitise teaching and non-teaching staff and implement actionable points of the National Policy on Narcotic Drugs & Psychotropic Substances (NDPS) to tackle the problem of sale of the drug to school and college children," reads the notice. Some of the regulations are to disallow the sale of tobacco within 100 metres around college; training professors to counsel students; and run deaddiction campaigns on campus. But experts say that a written notification cannot solve the problem; the signs need to be noticed early and students should be counselled and treated.
Read: Bar Council gives go-ahead to law colleges on admissions
"Ten years ago, we saw about one student in a class of 200 for doing hard drugs. We now see at least 20 students on Meow Meow and cannabis, says Dr Alpes Panchal, clinical psychiatrist and deaddiction specialist from Bandra. "They get drugs on campus as easily as pizza."
Here's a look at how city col leges are tackling drug abuse on campus. GROWING PROBLEM The principal of Rizvi College in Bandra, Mohamed Ali Farooqui, was alarmed to find an 18-year-old snorting cocaine on campus four years ago. "Bandra has several drug peddlers, and I realised the importance of running a full-length anti-drug programme on campus," he says. "The problem cannot be solved by merely suspending students — it needs deeper counselling and rehabilitation."
The student in question was sent to a rehabilitation centre, and is now drug-free. Rizvi College now has a teachers' committee that counsels each student ab out the ill-effects of the drugs and a security body that checks the campus for traces of substances.
Student addicts are typically stubborn, and it is tricky to deal with them, says Vijay Joshi, principal of KJ Somaiya College of Arts and Commerce in Vidyavihar. "A student outright told me that he took drugs to enhance his academic performance, and didn't see why it was wrong," he says. "We tactfully explained to him the harmful effects of the drugs, and told him how many drug addicts are left with no professional future."
Read: Monkey menace drive IIT-B students up the wall
It is difficult for institutes to trace an addict as many do not always display the symptoms in class, says Soumyo Mukherji, dean of student affairs at IIT-Bombay. "Most of them are very secretive about it. We only know when the cases become severe," he adds. At IIT-B, authorities fine students Rs 200 upon the first instance, and counselling upon the second offence.
The signs that may indicate the student is addicted to drugs are being an absentee, sudden drop in grades, being an introvert, weakness and sudden weight loss and pale eyes. "In most cases, the early signs go unnoticed — while colleges should keep a lookout for the signs, parents should also alert the college if they see their child hanging around with peers who seem a bad influence and see a changed behaviour in the child," says Dr Merchant.
Colleges have also spotted peddlers around the campus trying to interact with the students. "Our teachers suspected a peddler near campus a year ago, we called the police and got him arrested," says Ashok Wadia, principal of Jai Hind College, Churchgate. "Colleges should be cautious of anti-social elements around the campus." TACKLING ABUSE Several colleges in the city are taking active measures to fight abuse and counsel the students to ensure a drug-free campus. "We have made documentaries about the ill-effects of drugs and are running campaigns with the narcotics department of Mumbai police to spread awareness in city colleges," says BS Bidawe, coordinator of National Service Scheme (NSS) at the University of Mumbai. "There is, however, no report on the number of cases in colleges."
Read: Class 12 student in Indore releases book on gadget de-addiction
SIES College of Arts, Science and Commerce, Sion has a discipline team that aims to make the radius around campus drug-free and tobacco-free. "Our guards patrol the campus, and we counsel students every year about the types of drugs and their effects."
Somaiya Vidyavihar believes in an early start to prevent drugs on campus. "As part of the orientation, we telecast documentary made by the NSS cell on drug abuse," says principal Joshi. "We also have a strong counselling team to deal with absurd behaviour issues."
Suspension is not the solution to drug abuse, reiterates Farooqui of Rizvi College. "We assist students until they are out of the habit and grant them leave of absence when necessary," he says.