UPTU UPSEE result 2018 : Noida boy Aditya Singh tops with 572 marks out of 600
UPSEE result 2018: Gorakhpur girl Nandini Jalan secured the first rank among girls and overall the eighth rank in the same examination. She scored 536 marks.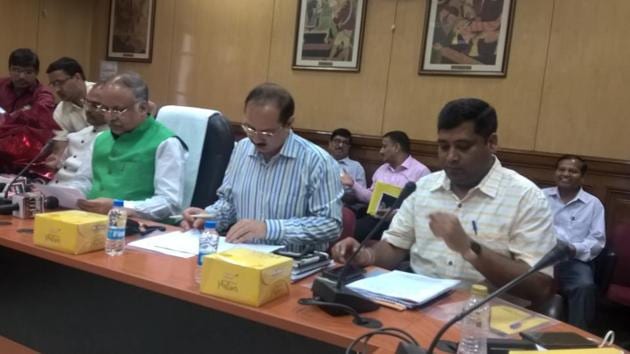 Updated on May 30, 2018 06:02 PM IST
Aditya Singh of Noida bagged the first rank in the Uttar Pradesh State Entrance Examination (UPSEE) 2018 conducted by Dr APJ Abdul Kalam Technical University, Lucknow, Uttar Pradesh for admission to first year B Tech, management and several other courses. Singh scored 572 marks.
Gorakhpur girl Nandini Jalan secured the first rank among girls and overall the eighth rank in the same examination. She scored 536 marks. A total of 1,75,597 candidates were registered in various courses out of which 1,56,452 appeared in the examination and 1,43,551 qualified against 1,47,833 seats.
300 laptops up for grabs
To lure admission seekers, there are 300 laptops for those who will enroll in engineering colleges affiliated to AKTU across the state. The first 100 boys, the first 100 girls and first 100 scheduled caste scheduled tribe candidates who will seek admission were entitled to laptop, announced technical education minister, Ashutosh Tandon. Last year, the first 100 girls who took admission in AKTU colleges were given tablets.
Number of seats slashed by over 13K
To bring about quality, this year the number of seats were reduced by 13,396. Last year, the total number of seats for which SEE was held was 1,61,229. But this the total number of seats were 1,47,833. The qualified percentage is 91.75.
Besides, B Tech, other courses for which SEE was held include: B Arch, B Pharm, BCA, B Des BHMCT, BFAD, BFA, MBA, MCA, MCA (Integrated) and second year B.Tech/B Pharm/MCA (lateral entry), according to AKTU vice chancellor, Vinay Kumar Pathak.
The offline exam for papers 1, 2, 3 and 4 was conducted on April 29at 158 exam centres across the country and online-exam for papers 5, 6, 7, 8, 9, 10 and 11 was conducted on May 5 and 6 at 58 exam centres in the state.
Toppers' mantra for success
Topper Aditya Singh of Noida said he focused on important subjects and regular studies were the key to his success. On whether he would take admission in AKTU or wait for the JEE advance results, the 19-year-old hesitantly said, "I will wait for the JEE advance result as the IITs offer better education. If I don't get in, I will consider going to AKTU."
Coming from a family of engineers, Singh had a passion for science. A student of Lotus Valley International School, Aditya gave his parents and teachers the credits for good tips and motivation.
"I had a lot of support," he said, thanking his parents for the stress-free environment at home. As a tip, he said that students should try to relax and indulge in other activities as well. Singh himself, played guitar, piano and enjoyed outdoor games.
Nandini Jalan, topper among girls, said, "It was completely unexpected. I expected a good score from this exam but getting such a high rank in this exam was something that I did not imagine. I'm delighted."
Nandini is a resident of Gorakhpur. Her father is a businessman and mother a homemaker. "I kept on revising my notes, kept the basics on my figertips and solved past years' papers," Said Nandini, who also scored 93.20% in Class 12 exams.
Nandini owes her success to her teachers, "They always believed in me and gave me the confidence that I could do well." Nandini is now anxiously waiting for the results of JEE-Advanced, and will then decide on her college. "This result has surely given me the confidence that I will get a decent rank in JEE too." An avid reader, she also enjoys playing badminton in her free time, "It helped me relax during my preparation days."
(With inputs from Rishi Kant and Ayushi Mishra)
Close Story