2022 Assembly election results: 'Humbly accept people's verdict': Rahul Gandhi
Mar 10, 2022 04:34 PM IST
2022 elections, Congress: Sonia Gandhi has called for a party meeting to discuss the results of these elections.
Rahul Gandhi tweeted Thursday afternoon after chastening defeats for the Congress in all five states that held Assembly elections over the past two months. The scale of the GOP's defeats were underlined by its performances in Uttar Pradesh - where it is projected to win just three of 403 seats - and Punjab - where its government has been defeated (resoundingly) by the Aam Aadmi Party that is expected to secure over 90 seats in a 117-member house.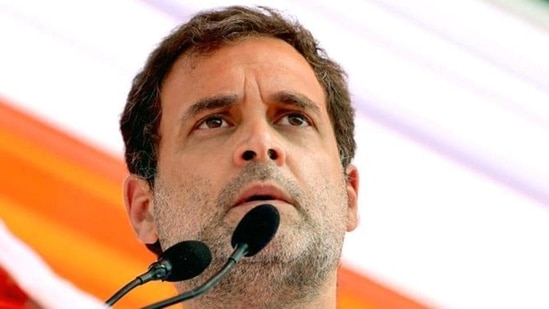 "Humbly accept the people's verdict. Best wishes to those who have won the mandate. My gratitude to all Congress workers and volunteers for their hard work and dedication. We will learn from this and keep working for the interests of the people of India," Gandhi tweeted.
Full Coverage: 2022 Assembly elections
Apart from UP and Punjab, the Congress has also been knocked out in Uttarakhand, Manipur and Goa - all states ruled by the BJP and where the saffron party is set to return.
Exit polls did suggest the Congress would have a hard time in these elections.
Exit Polls: BJP set to retain UP, AAP a shock Punjab winner, tight race in Goa
That the BJP would retain UP seemed a foregone conclusion after surveys unanimously gave them 225+ seats and Akhilesh Yadav's Samajwadi Party between 130 and 140, meaning there was little or no room left for the Congress.
The Congress was also expected to be beaten in Punjab, with the AAP predicted to romp to a first state win outside Delhi and a third state win in their 10 years.
Both results are set to be confirmed.
The BJP is leading in 247 seats in UP, with the Samajwadi Party ahead in 132 and two BJP allies - Apna Dal (Sonelal) and the Nishad Party - projected to win more than the Congress. And in Punjab the AAP is set to win a whopping 93 seats, with the Congress getting just 17.
READ: No longer a regional party; next fight lies in Gujarat: AAP
Exit polls predicted an outside chance in Uttarakhand and Goa, with the coastal state seeming particularly available after talk of a hung Assembly.
The BJP has left neither to its rival.
READ: BJP set for record win in hill state but CM Dhami loses by over 6k votes
It is set to win 47 of Uttarakhand's 70 seats and 20 of Goa's 40 seats. In the former case it is well clear of the halfway mark of 36 and, in Goa (assuming the saffron party does not manage a 21st seat) it is very unlikely the Congress will be able to move quickly or decisively enough to do to the BJP did to it in 2017.
In the last election the Congress emerged as the single-largest party with 17 seats to the BJP's 13, but delays over post-poll deals with smaller parties meant they lost the government.
The Congress, which has been battling poor results for the past few years, finds itself in more trouble now, particularly with an election due in Prime Minister Narendra Modi's Gujarat later this year and the 2024 Lok Sabha polls coming.
Priyanka Gandhi Vadra, the Congress' UP election-in-charge, was perhaps hinting this morning at what was to come when she called on party workers to not be disheartened.
READ: 'Our fight has just begun…': Priyanka Gandhi on poll results
Sonia Gandhi has called for a meeting to discuss the results of this round of elections, and has, like Rahul and Priyanka, insisted 'We won't stop working for people, will return'.